Miners boosted by commodity prices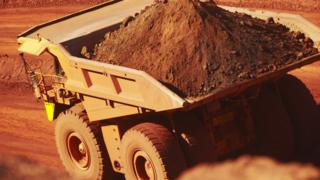 Two of the world's biggest mining companies, BHP Billiton and Anglo American, have reported a sharp increase in profits, boosted in part by the rise in commodity prices.
BHP's half-year profits were $3.24bn (£2.6bn), up from $412m a year earlier.
Chief executive Andrew MacKenzie said told the BBC the strong results were also helped by improved productivity.
Anglo American reported full-year profits of $1.6bn compared with a $5.6bn loss in 2015.
China impact
BHP's Mr MacKenzie said the results followed a five-year plan to "improve productivity and redesign our portfolio and operating model".
"Our steadfast commitment to this plan has positioned us to take full advantage in a period of higher prices," he added.
The price of some commodities has risen, in part because of increased demand from China. Iron ore has risen by more than 80% and coal by up to 300%.
However, Mr MacKenzie said there was another factor at play: "China's improved a little bit but I would say much of what's going on in terms of the iron ore price is down to less production of iron ore elsewhere and companies like us have been able to fill that gap.
"The Chinese economy is going quite strongly at the moment, partly down to stimulus that was stated probably about three quarters back, and that has really pushed up the premia for high quality iron ore and metallurgical coal and they're our principle products."
But in its statement, BHP said China's economic growth was expected to moderate in the coming year, with the housing and car markets expected to cool. It also said "exports may be challenged by the rising threat of protectionism".
Commenting on Anglo American's results, chief executive Mark Cutifani said: "The high quality assets across our De Beers, platinum group metals and copper businesses underpin our positions in those respective markets and are the cornerstone of a more resilient and competitive Anglo American, through the economic and commodity price cycle.
"In addition, we continue to benefit from the performance of a number of other world class assets across the bulk commodities of iron ore and coal, as well as nickel."