IMF boosts bailout for crisis-hit Argentina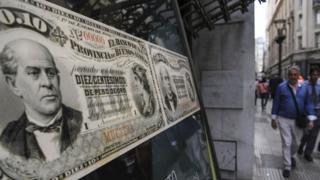 The International Monetary Fund has agreed to speed up a batch of emergency funds to Argentina and provide a bigger bailout than initially planned.
The IMF plans to boost its 36-month package to $57.1bn (£43bn) from $50bn announced previously.
It will also make about $19bn available though 2019.
The move is aimed at restoring confidence in Argentina, which is facing a growing economic crisis.
Its economy has contracted as the value of the Argentine peso has plunged and a drought has hurt agricultural exports. Alarmed investors have pulled money from the country.
The government, which is facing a deficit, has agreed to cut back spending as part of its agreement with the IMF, committing to a balanced budget by 2019 – a year earlier than planned.
Christine Lagarde, managing director of the IMF, said she is confident the plans will help restore market confidence in Argentina, while still providing for the needy.
But the move has prompting protests and strikes in Argentina, stirring memories of the austerity imposed after earlier IMF bailouts.
Ms Lagarde said: "A great deal of work remains to be done if Argentina is to respond effectively to the current challenging circumstances. That effort is just beginning. The IMF is committed to continue supporting the Argentine authorities in their efforts."