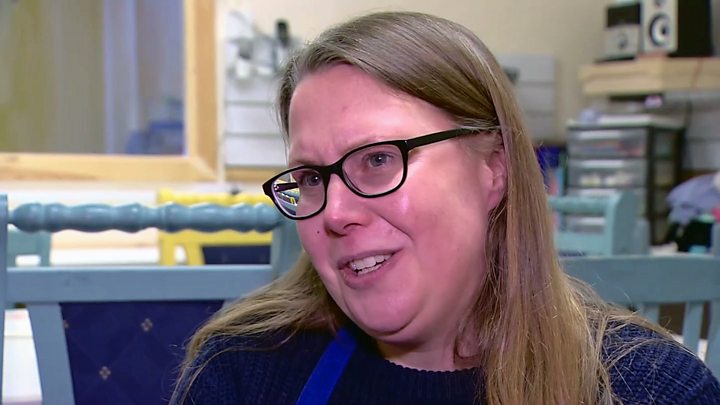 Should our jobs work around our families? Or should our families fit around our jobs?
Since 2014 anyone who's been employed with a company for more than six months has been entitled to ask for flexible working.
Changes might include working fewer hours, a job share or working from home. Though employers are allowed to say no if they feel it's detrimental to business.
A study out today from the charity Working Families found that 54% of parents feel that flexible working "isn't a genuine option" for them.
I meet Kaytie at a kids' craft workshop she's set up in Glasgow. The glue sticks and glitter are a different world to the transatlantic flights she was taking as a global marketing executive.
After 12 years with the same company she left after her second child. She wanted to work part-time and stay in her home city, but that wasn't an option.
"It is hard because you have given a lot of who you are to that one job, and suddenly you're out of that, almost cast out if not intentionally.
"It's really difficult to know who you are, where do I go now, what do I do now?"
Kaytie's experience couldn't be more different to John's. We meet at Pursuit Marketing, the marketing agency he works for in Glasgow.
There is a buzz to the office where employees are offered Fridays off if they hit their targets in four days. John shows me a photo of his five kids, and tells me how his "term time" job – where he starts at 09:30 after three school runs, and never works school holidays – has changed his life.
"The flexibility makes life a lot easier. Of course, home life is never easy with five kids.
"But if I get my work done in the week I get Fridays off. That means I can spend real time with my ten month old in the day."
Flexible working won't work for everyone, a spokesperson for the Federation of Small Businesses says.
"If you run a small restaurant that's open from 5pm to 10pm, then of course that's when you need your staff there. If you run a care home, there may be some scope for flexibility but ultimately you have to have a sufficient level of staffing around the clock."
They add: "But some smaller businesses find a flexible approach works well for both them and their employees. It can keep staff motivated, help with retention."
John's boss Lorraine agrees: "We saw productivity go up by more than 30% when we introduced felxi-working.
"What we've found is there are a lot of mothers and fathers at home with great skills but who have little or no access to childcare. We find we have brought in some exceptional talent that would be wasted without flexible hours."
Cultural problem
The Working Families study found that inflexibility is having a detrimental impact on family life. 39% of parents said they were often missing putting their kids to bed.
More than 13% said they are working more than seven extra hours a week just to get their job done.
Should the government be doing more? They told us: "20 million people can request flexible working and we want parents to have choices.
"We do recognise that the current labour market is not working fairly for everyone which is why we asked Matthew Taylor [chief executive of the Royal Society for the encouragement of Arts] to review modern working practices. The government will respond to the review shortly."
It's often cultural attitudes holding back flexibility, rather than employers or the law. Kaytie says that changes need to come from the top if they are to work.
"I am not angry with my employer. They tried their best, but until the people at the top start going part-time, the culture won't trickle down."