Fastjet shares collapse as cash crisis threatens survival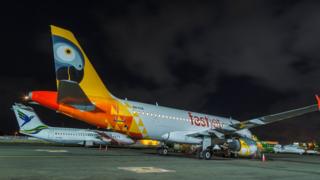 Shares in African budget airline Fastjet have collapsed by two thirds after warning it could go bust without new funding.
The airline, backed by easyJet founder Sir Stelios Haji-Ioannou, flies in several African countries including South Africa, Tanzania and Zimbabwe.
It is talking to major shareholders regarding potential equity fundraising.
However, if no new funds emerge, Fastjet said it may not be "able to continue trading as a going concern".
"Whilst initial discussions with certain shareholders have been positive, discussions are ongoing and there can be no guarantee of a successful outcome," the company said.
Fastjet has just $3.3m in cash, of which $1.75m is held in Zimbabwe and is not readily accessible.
Shares fell 67% to 5p in morning trading in London, valuing the company at about £22m.
If the talks fail, Fastjet said it could be suspended from trading on the AIM market.
Sir Stelios is Fastjet's major shareholder and had been involved in a boardroom dispute two years ago about leadership at the airline.
Sir Stelios said he was "very disappointed" at the developments: "I have been increasingly concerned over the last few years at the way Fastjet was being run … If Friday's AGM goes ahead I will ensure my representatives continue to voice my strong objections and vote against the tabled resolutions."