Boohoo sees huge growth in fast fashion brands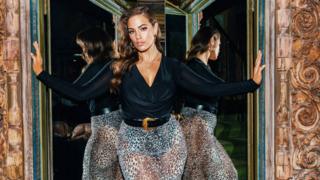 Online fashion retailer Boohoo has reported strong half-year profits and rapid growth at its fast fashion brands PrettyLittleThing and NastyGal.
Boohoo Group revenue jumped 50% to £395.3m and pre-tax profits rose 22% to £24.7m in the six months to 31 August, compared with the previous year.
Sales for PrettyLittleThing rose 132% to £168.6m, while NastyGal grew by 111% in £17.7m.
The online fashion retailer raised its forecast for revenue growth this year.
It expects sales growth of between 38% and 43%, up from its previous range of 35% to 40%.
Boohoo said use of its social media content had grown dramatically.
It now has 6.3 million followers on Instagram, a 200% rise in the last 12 months, 1.4 million followers on Facebook, up 40%, and 200,000 followers on Twitter,
"Our group results for the first half year show yet another strong performance, delivering record sales and profits. All of our brands performed extremely well across all territories as we continue to gain market share," said Boohoo's joint chief executives Mahmud Kamani and Carol Kane, in a statement.
Boohoo's shares rose 6% on the news.