Vietnam jails most senior Communist Party official in decades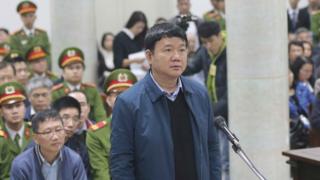 The most senior Communist Party official to go on trial in decades has been sentenced to 13 years in jail in Vietnam.
Former Politburo member Dinh La Thang was found guilty of economic mismanagement over losses in state oil firm PetroVietnam.
The former head of the firm was sentenced to life imprisonment.
The trial is part of a crackdown on corruption that involves high-profile energy and banking executives.
Twenty other people were sentenced on Monday in Hanoi, receiving jail terms ranging from three years suspended to nine years.
The trial is seen as a showcase of the Communist Party's fight against corruption but also an act of internal purging, correspondents say.