US rocket launch aborted after small plane enters airspace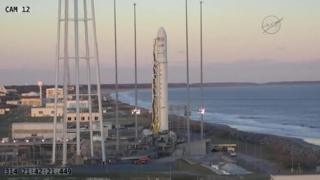 A rocket launch in Virginia was aborted at the last moment when a small aircraft flew into restricted airspace.
The unmanned cargo ship was about to be launched en route to the International Space Station (ISS) when mission control called "abort, abort, abort!".
They had spotted a small aircraft flying in restricted airspace at 500ft (150m) near Wallops Island.
The launch will be attempted again on Sunday morning at 07:14 EST (12:14 GMT).
The cargo ship was filled with 7,400 lbs (3,356 kg) of food, supplies, equipment and science experiments for the ISS.
Orbital ATK, which has a $1.9bn (£1.4bn) contract with Nasa to resupply the space station, was sharing live updates before the launch. At first, the preparations were going smoothly.
As the clock ticked down, it looked as if the ISS would soon be receiving an exciting delivery.
Until, suddenly, this happened.
Orbital ATK said there were "no issues until an aircraft flew into restricted airspace", adding that they would be "ready to go tomorrow morning".