US lists 210 Russians linked to Putin but avoids more sanctions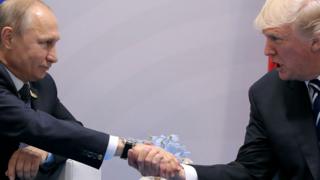 The US has published a list of 114 Russian politicians and 96 oligarchs, some close to the president, as part of a sanctions law aimed at punishing Russia for meddling in the US election.
But the US said those named had not been hit with new sanctions.
Congress passed the sanctions law in August. President Donald Trump signed it while making his reservations clear.
Some of the named Russians are already sanctioned but any further moves would be likely to infuriate Moscow.
One Russian senator, Frants Klintsevich, immediately responded by saying there would be a tough response from Moscow to such measures.
Lawmaker Vladimir Dzhabarov said the inclusion of almost the entire leadership of the country was a de facto severing of relations.
Informally known as the "Putin list", those named by the US Treasury include 42 aides of President Vladimir Putin and cabinet ministers such as Prime Minister Dmitry Medvedev, along with top spy agency and business officials.
Among the high-profile oligarchs named are Roman Abramovich and Oleg Deripaska.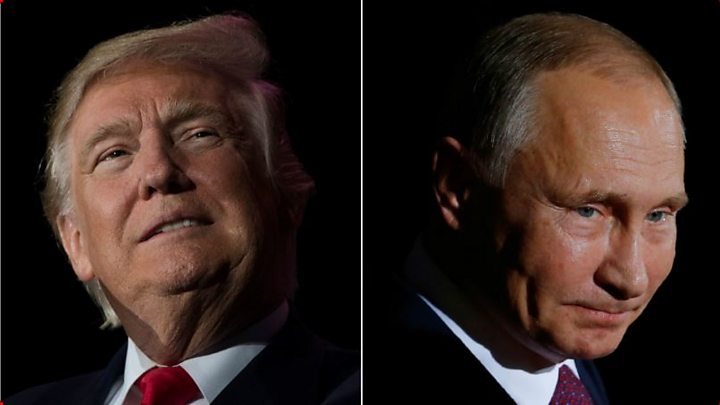 Under the US law, the Countering America's Adversaries Through Sanctions Act (Caatsa), the list had to be delivered by Monday and it was released about 10 minutes before midnight.
Analysts say the timing reflects Mr Trump's coolness towards the law and his opposition to the need to punish more Russians with sanctions.
The BBC's Steve Rosenberg in Moscow says the list does not tell us anything we did not already know but for those on it not already under sanctions, there could be a worry that they may be targeted in the future,
Earlier in the day, the US government argued the Caatsa law had already pushed governments around the world to cancel deals with Russia worth billions, suggesting that more sanctions were not required.
"From that perspective, if the law is working, sanctions on specific entities or individuals will not need to be imposed because the legislation is, in fact, serving as a deterrent," state department spokeswoman Heather Nauert said.
The Caatsa had infuriated Moscow. Mr Medvedev said at the time it meant the US had declared a "full-scale trade war" on Russia.
In signing the act, Mr Trump attached a statement calling the measure "deeply flawed".
"As president, I can make far better deals with foreign countries than Congress," he said.
The Caatsa also reflected Congress's anger at Russia's annexation of Crimea.
The Treasury says it has continued to maintain pressure on Russian on this issue.
Last week it designated another 21 individuals and 9 entities for sanctions.