Turpin case: Parents of captive children due in court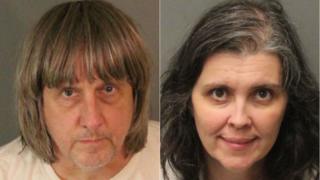 A Californian couple accused of keeping their 13 severely malnourished children captive in their suburban home are due to appear in court.
David and Louise Turpin will be formally told of the charges of torture and child endangerment they face.
They will be asked whether they admit the charges at the hearing in Riverside County, east of Los Angeles.
Aged between two and 29, the 13 are in hospital after one of them, a 17-year-old girl, summoned help on Sunday.
Seven are legally adult, but doctors say they do not appear so, possibly because their growth has been stunted due to lack of nutrition.
Police found them in an emaciated state in a filthy, foul-smelling house, some chained to their beds.
In the days since, investigators have been searching the home.
The couple are being held on bail of $9m (£6.5m).
The 'happy family' charged with torture
Can anyone open a school at home in California?
Investigators have confirmed that David and Louise Turpin are the children's biological parents, and say there is no evidence so far of sexual abuse or mental illness – though they caution that the investigation is continuing.
The role of the parents' religious beliefs in the treatment of their children is being examined.
A police officer told NBC News the children were only allowed one meal a day and two showers per year.
A neighbour at their former home in California said he would see the children through the upper windows, late at night, marching in single file from room to room for hours.
Relatives have also been telling the media what they know of the couple.
Elizabeth Flores, sister of Louise, told ABC News she hadn't had "a sister relationship for about 20 years".
"So other than maybe like a call every once in a while, and sometimes those calls are like a year apart. So I was shocked, I was devastated," she said.
"We were never allowed to be a part of their lives."
Ms Flores said she had lived with the couple as a university student, when they had four children.
"I thought they were really strict, but I didn't see any type of abuse," she said of the parents. "Now that I'm an adult, I look back, I see things that I didn't see then."
She said her brother-in-law had done things that made her feel uncomfortable, but she never told anyone because she was "young" and "scared".
"If I were to get in the shower, he would come in there while I was in there and watch me, and it was like a joke. He never touched me or anything."
Meanwhile, stories have been emerging about the houses occupied by the Turpins in Texas when they lived there until 18 years ago.
The people who moved in afterwards showed local media pictures of scratches on doors they thought were from animals, soiled carpets and walls, and boarded-up windows.
Former neighbours said the children told them they were not allowed to reveal their names.