Trump 'to name Brad Parscale as 2020 election campaign chief'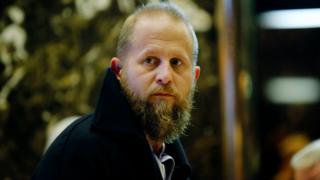 US President Donald Trump will name one of his political strategists as campaign manager for his 2020 re-election campaign, US media report.
Brad Parscale joined the Trump Organization in 2011 as a digital media strategist.
The real estate mogul asked Mr Parscale in 2015 to create a website for his exploratory White House campaign.
Mr Parscale became digital director of the Trump campaign a year later.
The Republican president filed paperwork with the Federal Election Commission shortly after his inauguration last year to form a committee for a re-election bid.
Mr Trump's campaign fundraising has been ongoing, raising $22m by the end of 2017.
It is little surprise that an incumbent US president would run for a second term, as White House press secretary Sarah Sanders made clear last year.
"Of course he's running for re-election," she said in June 2017 during a press briefing.
Mr Parscale was interviewed behind closed doors last year by the House Intelligence Committee inquiry into alleged Russian meddling in the US election.
He said he had told lawmakers he had no knowledge of the alleged Kremlin plot to influence the campaign in favour of Mr Trump.
He told a CBS 60 Minutes programme last year that Mr Trump had rebuked him during the election, because the candidate was sceptical about ad spending.
Mr Parscale said Mr Trump shouted at him: "I don't believe in this mumbo-jumbo digital stuff.
"I was crushed actually. It was the first time he had ever, just, I hadn't even seen him yell at anyone, let alone me."
The digital guru's firm billed the Trump campaign $94m (£68m) for its work on the election, reports CNBC.
Mr Parscale told 60 Minutes he shifted focus away from the swing state of Virginia after deciding that Mr Trump could carve a path to victory in the US Midwest.
"I took every nickel and dime I could out of anywhere else," he said.
"And I moved it to Michigan and Wisconsin. And I started buying advertising, digital, TV."