Trump Supreme Court nominee Kanavaugh faces key hearing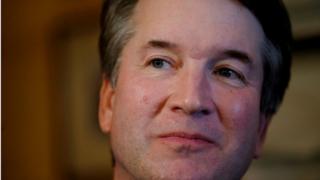 President Donald Trump's nominee for the vacant Supreme Court seat is set to face the first of four days of Senate hearings on Tuesday.
Brett Kavanaugh, a Catholic, would tilt the court's balance to the right if approved by the Senate.
Many Democrats strongly oppose Mr Trump's choice as they fear a more socially conservative approach to abortion and gay rights.
Mr Kavanaugh, 53, will be grilled by the Senate Judiciary Committee.
The senators will also hear from witnesses for and against the nominee.
Why is the nomination contentious?
The nine-justice court has until now been balanced between conservatives and liberals, with Anthony Kennedy considered the "swing vote". He retired in July.
Mr Kavanaugh is a conservative and Democrats say he could erode abortion rights, which are enshrined in the 1973 Roe v. Wade ruling, is opposed to gay rights and is pro-gun.
They are also concerned about his belief that a sitting president should be immune from prosecution.
The Supreme Court might have to rule on the issue should Special Counsel Robert Mueller decide that Mr Trump may have violated campaign finance laws.
The campaign finance issue emerged as part of Mr Mueller's investigation into allegations of collusion between the Trump election campaign and Russia. The president's lawyers have vowed to fight any subpoena request all the way to the highest court.
The Trump administration has also angered Democrats by refusing to release 27,000 documents relating to Mr Kavanaugh's time as part of the legal team serving President George W Bush. The White House cited "constitutional privilege".
Democrats – currently in the minority in the House and the Senate – also dislike his opposition to the Affordable Care Act – Obamacare – as a US Court of Appeals judge.
What do Republicans say?
On the release of documents, Republicans say Democrats have more than enough information to make their judgement – and more than 120,000 documents were made available relating to the nominee's time in the Bush White House.
Senate Republican leader Mitch McConnell tweeted his support on Friday.
Will Kavanaugh get through?
It is thought likely.
He faces up to three days of questioning from the Senate Judiciary Committee, including the senior Democrat Diane Feinstein. More than 20 witnesses are being called.
"There will be sparks at this hearing," Senator Richard Blumenthal, also a Democrat, has predicted.
Assuming he clears that hurdle, it will be up to the full Senate to decide. Republicans have a slim majority in the 100-seat upper house, and most have declared they will back him.
Not all Democrats have said they will oppose him and it is thought some could even support Mr Kavanaugh's nomination.
What is his background?
A resident of the wealthy Washington suburb of Chevy Chase, Mr Kavanaugh studied law at Yale.
He worked under special counsel Kenneth Starr in his investigation into President Bill Clinton's relationship with intern Monica Lewinsky in the 1990s.
Under George W Bush, he served as deputy White House counsel and, from 2003 to 2006, as Bush's staff secretary.
Mr Kavanaugh is likely to have been involved in a range of issues, including the so-called war on terrorism and discussions about how to deal with enemy combatants.
He has been a US Court of Appeals judge in Washington for the past 11 years.