Trump-Russia investigation: US Congress issues subpoenas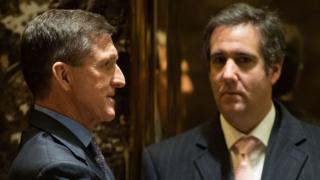 The US House intelligence committee has issued subpoenas to President Donald Trump's former aide and his lawyer, as part of its Russia investigation.
The orders were made to fired national security adviser Michael Flynn and lawyer Michael Cohen.
The committee is one of several probes into alleged meddling by Moscow in last year's presidential election, and any collusion with the Trump campaign.
All of them have been dismissed by the president as "fake news".
Republican Mike Conaway and Democrat Adam Schiff, who head the committee, announced the move in a joint statement.
"As part of our ongoing investigation into Russian active measures during the 2016 campaign, today we approved subpoenas for several individuals for testimony, personal documents and business records," they said.
How Trump's Russia trouble unfolded
Similar congressional requests for information have been sent to other former Trump aides, including Roger Stone, Paul Manafort and Carter Page.
The president's son-in-law and close adviser Jared Kushner is said to be under scrutiny as part of the FBI inquiry.
According to US media, he discussed setting up a back channel line of communication with Moscow's envoy to Washington.
---
What are the investigations?
Justice Department headed by special counsel Robert Mueller
There are also four congressional committee investigations
They are Senate Intelligence, Senate Judiciary, House Intelligence, House Oversight
What will the special counsel do?
Mueller 'is ramrod straight in integrity'
---
The FBI and other US intelligence agencies believe Russia tried to interfere in the election in order to help Mr Trump get elected.
His opponent Hillary Clinton's campaign was hacked and damaging emails released in the final weeks before Americans cast their votes.
In an interview on Wednesday, Mrs Clinton said she believed the hacks were carried out with guidance from people in the US.
There were also subpoenas reportedly issued by the House intelligence committee to the CIA, the National Security Agency and the FBI.
These subpoenas are seeking records related to the "unmasking" of Trump associates accidentally picked up in intercepted conversations, say US media reports.