Trump-Nato summit: EU's Tusk warns president to appreciate allies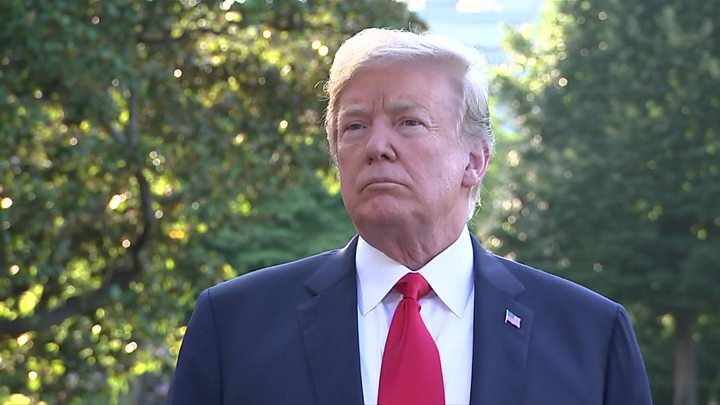 President Donald Trump has arrived for a Nato summit in Brussels with a stark warning from European Council President Donald Tusk ringing in his ears.
Ahead of his visit, Mr Trump hit out at the EU on trade and at his Nato allies for failing to spend enough on defence.
Accusing the president of criticising Europe "almost daily", Mr Tusk said the EU spent more than Russia on defence and as much as China.
"Dear America, appreciate your allies, after all you don't have that many."
Mr Tusk also said that the US did not and would not have a better ally than the EU, reminding the president that it was European troops who had fought and died in Afghanistan after the 11 September 2001 attacks on the US.
Meanwhile, Nato figures released on Tuesday showed the extent of the shortfall in defence spending being highlighted by the US president, with 24 of Nato's 29 members forecast to fall below the alliance's target of spending 2% of GDP on defence in 2018.
'Unconvincing' confidence
By Tara McKelvey, BBC White House reporter
Here in Brussels, traffic's snarled, and people are wearing football jerseys and beating drums because of the match. Meanwhile Trump's coming to town. He's a difficult guest: he's tweeted his meeting with Putin might be easier than those with Europeans. And Trump's made it clear he wants Europeans to do more for Nato and for their collective security.
Some of his supporters in Washington – the nationalists – think the US should drastically reduce its Nato contributions. Privately some European diplomats have been shouting – well, raising their voices – at me in back hallways because of their anger over Trump. Others in Europe – like Tusk – are tweeting.
Still they're trying – mostly – to be hospitable this week. And Trump's told reporters that in the end he thinks everything will fine: "All countries will be happy," he said, unconvincingly.
After attending the Nato summit on Wednesday, President Trump will spend four days in the UK, which is in the grip of a political crisis, before meeting Russia's Vladimir Putin in Helsinki on Monday.
While Mr Trump is looking to improve relations with Russia, there has been alarm at the deteriorating climate with his allies in Europe and what he might agree to with President Putin.
Some have expressed fears for the future of Nato itself, and German Chancellor Angela Merkel has indicated that Europe may no longer be able to rely on its US ally.
Mr Trump told reporters as he boarded Air Force One: "So I have Nato, I have the UK which is in somewhat turmoil, and I have Putin. Frankly, Putin may be the easiest of them all. Who would think?"
The EU Council leader said pointedly that when Mr Trump did meet Mr Putin on 16 July "it is always worth knowing who is your strategic friend and who is your strategic problem."
Before he left Andrews Air Force Base, President Trump reiterated his demand for the US to pay less and other members of the Western military alliance to pay more, and he linked the issue to the EU's trade surplus with the US.
Last month, the US raised fears of a trade war by slapping tariffs on steel and aluminium from the EU, Canada, Mexico and other US allies. The EU hit back with tariffs on products including motorcycles and orange juice. According to EU statistics, the EU's trade surplus in 2017 was $140bn (€120bn; £106bn).
On Nato, President Trump's main objection is that a number of member states have not increased their defence budgets to the target of 2% of economic output.
Nato countries have agreed to raise military spending by 2024, although Germany and Spain are unlikely to meet the target.