Trump lawyer Michael Cohen under criminal investigation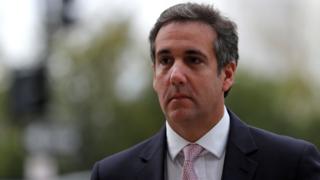 US President Donald Trump's top lawyer is under criminal investigation, the US justice department has announced.
Prosecutors say they are focusing on Michael Cohen's business dealings rather than his work as a lawyer.
Mr Cohen has been under investigation for months, the court filing says.
The filing was in response to efforts by Mr Cohen's own lawyer to stop prosecutors reviewing material seized from Mr Cohen's office on Monday.
Mr Cohen's team argues that the papers are covered by the attorney-client privilege.
During a court hearing in New York on Friday, prosecutor Tom McKay accused Mr Cohen of trying to use the legal doctrine "as a sword to challenge the government's ability to review evidence".
A new lawyer for President Trump, Joanna Hendon, said the president had an "acute interest" in the case. Ms Hendon, who was hired on Wednesday, asked the judge to adjourn the session so she had more time to prepare.
In a separate development, Mr Cohen reportedly negotiated a $1.6 million settlement with a former Playboy model on behalf of a Republican fundraiser, according to a Wall Street Journal article.
Elliott Broidy, a Los Angeles investor, acknowledged "a consensual relationship" with the Playmate, who became pregnant.
Mr Broidy said it was "unfortunate" that the personal matter was "the subject of national discussion" because of the involvement of Mr Cohen.
Mr Cohen admitted to have paying a porn actress, Stormy Daniels, $130,000 before the 2016 US presidential election.
Ms Daniels claims she had an affair with Mr Trump, and he and his lawyers made attempts to buy her silence.
The president denies the alleged relationship.