The radio station that wishes it could bring back laughter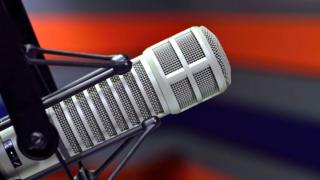 Radio Alwan is a small, independent and politically neutral radio station set up in Syria in 2014 and now broadcasting in exile from Istanbul. Emma Jane Kirby has followed its progress closely – but when she made contact with its staff again recently, the latest news was not so good.
The thing I've always loved most about my visits to Radio Alwan is the laughter. In the kitchen, in the newsroom, even in the studio, there's always someone cracking a joke.
It's almost, the special projects manager, Sami, once explained to me, the unwritten maxim of this little station. The situation in Syria after seven years of civil war is so horrific that you'd simply go mad if you didn't force yourself to think of something else.
As I email Sami some proposed dates for my next trip, I catch myself grinning remembering how last time there'd been a hysterical bun fight in the newsroom as the staff squabbled over the cakes I'd brought from England.
Sami's reply came quickly. He didn't say "don't come" – he's far too polite – but he made it clear that if I was coming to Turkey just for Radio Alwan, then there was really no point because the funding had dried up, the Istanbul office had closed and all the staff had been let go.
There were just six local employees left, he added – and they were trapped in Idlib, waiting for whatever was to come. His tone was so uncharacteristically flat and despondent that I was almost frightened to call him.
Like many non-profit organisations – NGOs – in north-west Syria, Radio Alwan has fallen victim to the Trump administration's decision last Easter to pull $200m of funding for Syria's stabilisation projects. That news, Sami recounts quietly, his voice reverberating a little over our Skype line, came completely out of the blue and felt like a "strike to the head".
"We had so many projects and ideas developing – you remember them?" he asks rhetorically. "We even moved to bigger offices and suddenly, that's it – we found ourselves completely helpless."
The creative energy that used to zip along the corridors and studios of Radio Alwan was palpable – it honestly made my fingers tingle.
On my last visit I got a preview of their new drama about the White Helmets, I heard extracts of their comedy about old Syrian shopkeepers and I was allowed to sit in on their live phone-in on forgiveness with callers from Idlib.
Having had their offices smashed and then one of their chief correspondents killed in an attack in Aleppo, Sami and his colleagues took the decision to set up afresh in Idlib because although it wasn't exactly safe, it was, as Sami recalls, "at least a bit safer".
---
More about Radio Alwan
The hard-hitting soap for a country at war
The radio station giving hope to listeners in Syria
---
Now, two female presenters, two male presenters and two sound engineers are stuck there, fearing, says Sami, a chemical attack, more bloodshed and more bombing.
"They have very limited resources," he tells me. "And they are terrified. They don't know what will happen to them but we know it will be far worse than what happened in Ghouta and in Daraa because there are so many hundreds of thousands of people in Idlib. Turkey has closed the border. They cannot get out."
Sami always speaks quickly and fluently but sometimes his voice sounds like it's separating – and his words sliver off and fragment into the airwaves. It's not a glitch on the line.
"If they – if my Idlib team…" he starts. "If something happens to one of them…"
Incredibly, the Idlib team is still broadcasting two programmes a day.
Although listeners are given the latest reports from the ground, they're also treated to programmes about poetry and literature – there are regular discussions too about music, culture and women's' issues. And having somehow managed to get a smartphone to the team, Sami tells me proudly that from next week, the famous Radio Alwan phone-in will start up again.
"You can't just expect people to hear news and analysis when they are in such a situation," Sami insists. "We need to divert listeners from the fear and worry."
Sami is also adamant that the radio airspace must not be left open and empty for too long, in case radical Islamic groups claim it to broadcast hate speech and extremist ideas. That's the worst bit, he says, about losing their funding – it's taking away the moderates' voice.
We end our call with a chat about Radio Alwan's showcase soap opera – Sami finds it funny that I've become such a fan – and he assures me that if things work out, if there isn't a massacre in Idlib, then a third series will definitely be made.
---
Find out more
From Our Own Correspondent has insight and analysis from BBC journalists, correspondents and writers from around the world
Listen on iPlayer, get the podcast or listen on the BBC World Service, or on Radio 4 on Saturdays at 11:30 BST
---
And what about the humour, I ask? Will there still be a place for laughter on Radio Alwan?
There's a long pause on the line.
"It's not easy to keep the humour as we used to," he apologises. "Because we have lost so many staff and we have rather lost the ability to think and create with the situation in Idlib."
I hear him sigh deeply.
"Everyone wants this war to be over without bloodshed. Maybe, after that we can get back the humour and see how we can build on it. Maybe."
Join the conversation – find us on Facebook, Instagram, YouTube and Twitter.