Thaad missile defence operational in S Korea 'within days'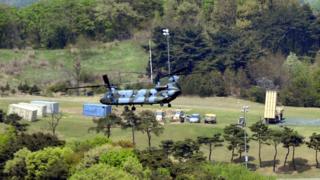 An advanced US missile system being installed in South Korea will be operational "within days", the US Army has said.
The Thaad system is designed to protect South Korea and US troops based there against threats from North Korea.
The first key components were moved into place on Wednesday, but it was not expected to be in use until late 2017.
The deployment of the system is opposed by many South Koreans, who fear it will become a target, and by China.
Speaking to members of the US Congress on Wednesday, Adm Harry Harris, commander of the US Pacific Command, said Thaad would be "operational in the coming days to be able to better defend South Korea against the growing North Korea threat".
He has said the system is designed to bring North Korean leader Kim Jong-un "to his senses, not to his knees".
South Korea's defence ministry later confirmed the system would soon be "in actual operation" soon, at its site on a former golf course in Seongju in eastern South Korea.
A spokesman said the "positioning of some equipment means that South Korea and the US have the capability to cope with North Korea's provocations".
---
What is Thaad?
What is the Terminal High Altitude Area Defence System (Thaad)?
Shoots down short- and medium-range ballistic missiles in the terminal phase of their flight
Uses hit-to-kill technology – where kinetic energy destroys the incoming warhead
Has a range of 200km (120 miles) and can reach an altitude of 150km
US has previously deployed it in Guam and Hawaii as a measure against potential attacks from North Korea
Deployment to South Korea was agreed by Obama administration
The arrival of the defence equipment at the Seongju site on Wednesday was met with protests by locals, who fear it will make the area a target for North Korean attacks.
It has also angered China, which fears the system's radar capabilities will affect its own military security, and that it changes the balance of power in the region.
The Thaad deployment comes at a time of escalated fears of military action on the ever-tense Korean peninsula.
After repeated missile tests by North Korea – including a failed ballistic missile test on 16 April – and threats of further nuclear tests, US Vice-President Mike Pence has warned North Korea not to "test" President Donald Trump.
On Tuesday, a US submarine – the USS Michigan – joined a group of warships in the Korean peninsula led by aircraft carrier the USS Carl Vinson.
North Korea meanwhile threatened to sink the aircraft carrier and launch a "super-mighty pre-emptive strike" against what it called US aggression.
Chinese President Xi Jinping urged "restraint" on North Korea in a telephone call with President Trump on Monday.