Syria war: New UN truce plea as deaths in Eastern Ghouta mount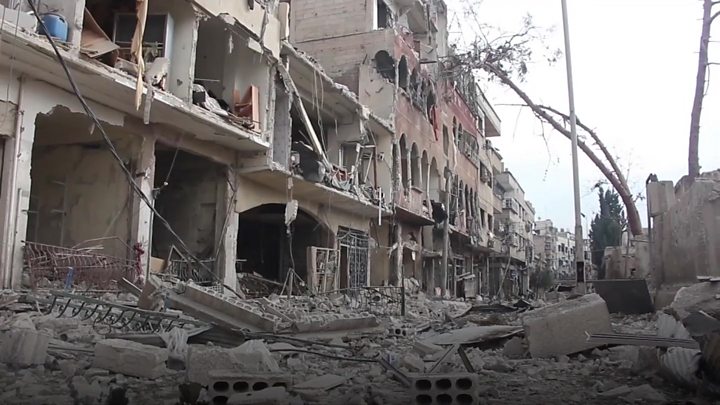 The UN has renewed its appeal for an immediate truce in the besieged Syrian rebel-held Eastern Ghouta area, amid reports of more deaths in air strikes.
The UN Security Council voted for a 30-day nationwide ceasefire on Saturday, but no start date was given.
On Monday, UN Secretary-General António Guterres said that it was "high time to stop this hell on Earth".
He spoke as activists reported that nine civilians were killed in a government strike on the town of Douma.
At least 541 people have been killed by government air and artillery strikes since hostilities escalated eight days ago, according to a medical charity.
The Eastern Ghouta is the last major rebel-held area near the capital, Damascus, and has been besieged since 2013 by the Syrian military with support from its Russian and Iranian allies.
Although there has been some reduction in violence since Saturday, air strikes are continuing to target the enclave.
What is happening now in the Eastern Ghouta?
Reports on Monday morning spoke of renewed bombardments in areas including Douma, the main town in the Eastern Ghouta, and Harasta.
The Syria Civil Defence, whose rescue workers are known as the White Helmets, said nine civilians were killed in a strike on one building in Douma.
Some reports said those killed were from the same family.
There were no reports of a major ground offensive by the Syrian military.
The Union of Medical Care and Relief Organizations (UOSSM), a charity that operates hospitals in the Eastern Ghouta, said at least 20 civilians were killed in government air and artillery attacks on Sunday.
Casualties were also reported on both sides after government forces clashed with rebels in southern areas of the enclave.
Some 393,000 civilians are trapped in the area, according to the UN.
What has the UN said?
Addressing the UN Human Rights Council in Geneva, Mr Guterres said Security Council resolutions were "only meaningful if they are effectively implemented and that is why I expect the resolution to be immediately implemented and sustained".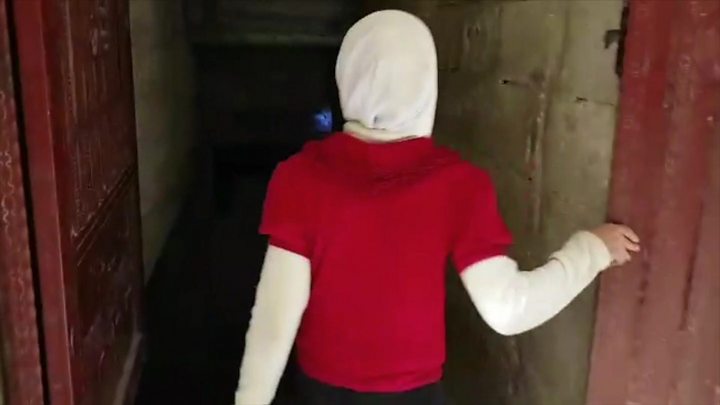 He added: "Eastern Ghouta cannot wait. It's high time to stop this hell on Earth."
The UN Security Council on Saturday backed a resolution calling for a 30-day ceasefire across Syria "without delay" but without giving a specific start time.
The resolution was agreed to allow for aid deliveries and medical evacuations, but operations against the jihadist groups Islamic State (IS), al-Qaeda and al-Nusra Front are not covered by the truce.
Al-Nusra Front is a former al-Qaeda affiliate in Syria which leads an alliance of jihadist groups called Hayat Tahrir al-Sham (HTS).
HTS has a presence in the Eastern Ghouta, but the enclave is dominated by the Islamist rebel groups Jaysh al-Islam and Faylaq al-Rahman.
EU foreign policy chief Federica Mogherini on Monday called on the Syrian government and its supporters to ensure the process of de-escalation took place.
The government has denied targeting civilians and said it is trying to liberate the Eastern Ghouta from "terrorists" – a term it has used to describe both the jihadist militants and the mainstream rebels.
How bad is it in the Eastern Ghouta?
One doctor, who gave his name as Dr Jad, told the BBC medics were working with "no electricity, no medication, no oxygen, bombs, no medication for anaesthesia, no painkillers, no antibiotics".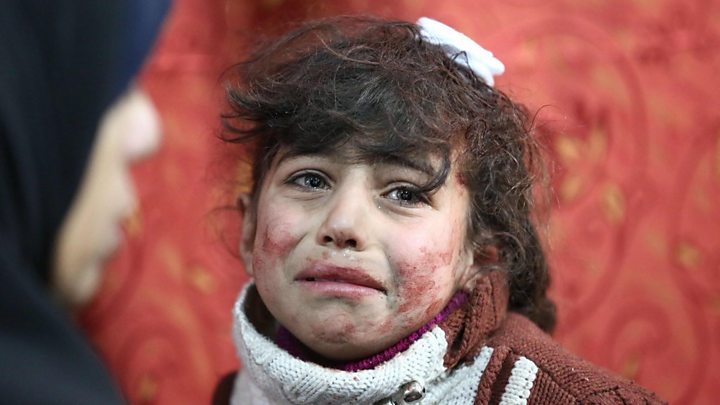 He added: "They are working in a really, really dreadful, difficult situation; it reminds us of the First World War."
The Syrian Network for Human Rights group, which tracks casualties, says 12,763 civilians have died as a result of attacks by Syrian government forces and their allies in the Eastern Ghouta since March 2011, when the Syrian civil war began.
Was there a chlorine attack on Sunday?
Ambulance drivers reported a chlorine smell after a bombardment air strike in the town of al-Shifuniya.
Workers within the opposition-run health ministry said there had been admissions on Sunday of people suffering symptoms consistent with exposure to chlorine gas.
They said 18 people had been treated "with oxygen nebulising sessions", that one male infant had died, and that a four-month-old baby was on a ventilator.
It was unclear whether the boy's death was related to gas or the explosion.
The Syrian American Medical Society, a relief organisation, also told the BBC there were patients "suffering from symptoms indicative to exposure to chemical compounds".
None of reports could be independently verified.
On Sunday, Russian Maj Gen Yury Yevtushenko warned that rebels in the Eastern Ghouta might be "preparing a provocation that will involve the use of chemical weapons".
The Syrian government has repeatedly denied using chemical weapons.
However, a joint investigation by experts from the UN and the Organisations for the Prohibition of Chemical Weapons concluded two years ago that government forces had used chlorine as a weapon at least three times between 2014 and 2015.
The experts are also confident that government forces used the nerve agent Sarin in an attack on the northern rebel-held town of Khan Sheikhoun last April, killing more than 80 people.