Spy poisoning: UK plays down Russia complaint at plane search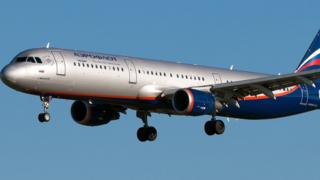 The UK has rejected a complaint from Russia over a search of one of its aircraft at London's Heathrow Airport, as a row over the poisoning of a former Russian spy deepens.
The British government described the search of the Aeroflot plane on Friday as "routine" after Russia suggested it was "illegal".
Dozens of diplomats have been expelled on both sides in the poisoning dispute.
Moscow wants UK representation in Russia cut by a further 27 diplomats.
Twenty-three had already been expelled by Russia in response to the UK's announcement of 23 Russian expulsions on 14 March.
Ex-spy Sergei Skripal, 66, and daughter Yulia, 33, were poisoned on 4 March in Salisbury with what UK investigators have concluded was a Russian nerve agent called Novichok. Russian denies involvement.
He is critically ill, but stable, while she is now said to be conscious and talking.
The Foreign and Commonwealth Office has meanwhile said it will consider a request for Russian consular access to Yulia, a Russian citizen.
What happened on the plane?
Aeroflot flight SU2582 landed at Heathrow on Friday at 15:40 local time.
A man identified by Russian TV as pilot Vitaly Mitrofanov said he was confined to his cockpit by a team with a sniffer dog.
The Border Force officers inspected the plane for up to three minutes before leaving with a "thank you", he added.
The pilot maintains they "gave no reasons" for the inspection, and he was not allowed to "observe their actions" or accompany them in their work.
"If there is no explanation, the Russian side will deem the actions towards our plane as illegal and also reserve the right to take similar action against British airlines," Russia's ministry of transport said in a statement.
Russian foreign ministry spokeswoman Maria Zakharova dubbed the search a "provocation" so the British government could "save its face in any possible way".
How has the UK responded?
UK Security Minister Ben Wallace said in a statement that it was "routine for Border Force to search aircraft to protect the UK from organised crime and from those who attempt to bring harmful substances like drugs or firearms into the country".
He added: "Once these checks were carried out the plane was allowed to carry on with its onward journey."
Former chief executive of the UK Border Agency Rob Whiteman said intelligence would have been a factor.
"This incident with the Aeroflot flight at Heathrow being searched would have been a routine security search which the security services would have undertaken acting on intelligence," he told the BBC.
"These searches are routine – they don't happen every day, but they do happen fairly regularly."
What is the background to the latest dispute?
The poisoning row has rumbled on for nearly a month.
The UK is adamant Russia is behind the poisoning of the Skripals – Russia denies it.
Moscow has been taken aback by the strength of support for Britain by mainly Western countries, who announced the expulsion of 150 Russian diplomats over the course of three days earlier this week.
Moscow responded in kind and then added to the number of British diplomats told to leave Russia.
On Friday the British ambassador, Laurie Bristow, was told that the UK had a month to cut its diplomatic mission in Russia to the same size as the Russian mission in Britain.
A UK Foreign Office spokeswoman said: "The Russian response is regrettable but in light of Russia's previous behaviour, we anticipated a response.
"However, this doesn't change the facts of the matter: the attempted assassination of two people on British soil, for which there is no alternative conclusion other than that the Russian state was culpable."
UN Secretary General Antonio Guterres on Thursday issued a warning over "a situation that is similar, to a large extent, to what we lived during the Cold War".
---
Russia singles out UK again
By Paul Adams, BBC News, Moscow
British diplomats left Moscow a week ago, but ambassador Laurie Bristow was summoned back to the foreign ministry for additional punishment.
Beyond the issue of parity, the Russian side hasn't really explained why it's made the latest demand.
But it's clear that Russia sees Britain as the ringleader of an international conspiracy which resulted in the biggest mass expulsion of Russian diplomats in history.
Britain's "provocative and unjustified actions", the ministry said, had "inspired the unfounded expulsion of Russian diplomats".
It's a backhanded compliment to Prime Minister Theresa May, who has successfully corralled a wider international coalition than anyone would have thought possible a month ago.
Russia has railed against the British government over its efforts to internationalise what officials here call "the so-called Skripal affair". The solidarity expressed by so many countries has been dismissed as a result of financial and political pressure, orchestrated in tandem with the US.
---
What is Russia's take on the expulsions?
Russian Foreign Minister Sergei Lavrov has blamed "harsh pressure from the United States and Britain under the pretext of the so-called Skripal case" for the decision by dozens of countries to expel Russian diplomats.
He reiterated Russian calls for consular access to Yulia Skripal – a Russian citizen. The UK Foreign Office says it is considering this "in line with our obligations under international and domestic law, including the rights and wishes of Yulia Skripal".
Russia, Mr Lavrov said, was also seeking a meeting with leaders of the Organisation for the Prohibition of Chemical Weapons (OPCW) to "establish the truth".