Pope Francis to visit Ireland in August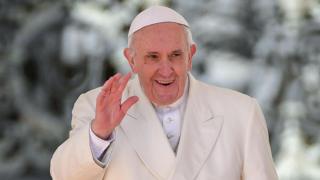 Pope Francis is to visit Ireland in August – the first papal visit to the country for almost 40 years.
He will arrive in Dublin as the city hosts of the World Meeting of Families, an international Catholic event which is staged every three years.
The last pontiff to visit the Republic of Ireland was Pope John Paul II. He drew crowds of over 2.5m – more than half the state's population – in 1979.
There has been no announcement about any possible visit to Northern Ireland.
Like John Paul II, he will celebrate Mass in Dublin's Phoenix Park.
He will also take part in the 'Festival of Families' in Croke Park, the headquarters of the Gaelic Athletic Association (GAA). It is one of the largest stadiums in Europe with a capacity of more than 82,000.
The announcement, which was widely expected, has been welcomed by the Catholic bishops in Ireland.
Pope Francis will arrive in a vastly changed and much more secular Ireland.
It was once considered among the most conservative countries in Europe, where the Catholic Church wielded great power and influence over the state authorities.
Until the 1990s, homosexuality and divorce were illegal.
Homosexuality was decriminalised in 1993 and the ban on divorce was removed by a referendum in 1995.
In 2015, the Republic of Ireland became the first state in the world to make same-sex marriage legal by a popular vote.