Philippines' Duterte says he ordered probe into Australian nun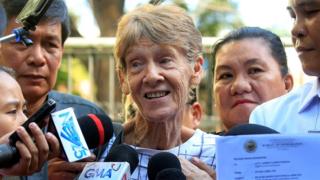 Philippines President Rodrigo Duterte has said he personally authorised an investigation into an Australian nun who was detained earlier this week.
Sister Patricia Fox, 71, was held by immigration authorities in Manila on Monday after being accused of political activity that breached her visa.
She was released on Tuesday without charge, and has denied any wrongdoing.
Mr Duterte accused her of "disorderly conduct", warning that foreign critics of his government faced being deported.
"You insult me under the cloak of being a Catholic priest, and you are a foreigner. Who are you? It is a violation of sovereignty," he said at an armed forces ceremony in Manila.
"The Philippine laws provide that I can deport you, or refuse you entry, if you are an undesirable alien."
Sister Fox is a long-term resident of the Philippines and the mother superior of a local Catholic order.
Her temporary detention sparked protests from supporters in the largely Catholic country.
'Criticise your own government'
Authorities accused Sister Fox of participating in partisan rallies in Mindanao, a restive island in the country's south that is under martial law.
However, Sister Fox denied that her activism was political.
"I have been joining pro-human rights rallies for the farmers – for their land rights – [and] to release political prisoners," she said.
"I would call it part of our duty as a religious [group] that we support the poor."
In his speech, Mr Duterte suggested that Sister Fox should instead scrutinise Australia.
"You nun, why don't you criticise your own government, the way you handle the refugees, hungry and dying and you turn them back to the open sea?"
"You do not have that right to criticise us. Do not insult my country. We never did that to Australia. We never did that to (a) European country."
Under a controversial policy, Australia turns back asylum seeker boats at sea when it deems such action is safe. Canberra has also drawn criticism for detaining asylum seekers in overseas centres.
The government has defended both policies as part of a deterrence strategy that it argues saves lives at sea.
Australia has previously criticised Mr Duterte for his government's war on drugs, which has caused the deaths of thousands.