Pakistan Zainab murder: Imran Ali executed in jail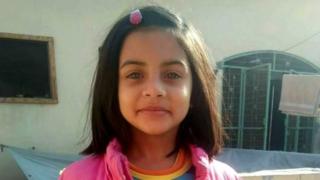 Pakistan has hanged a man convicted for the rape and murder of six-year-old Zainab in January.
Imran Ali, who was arrested after her body was found in a garbage dump, was executed in Lahore's Kot Lakhpat prison early on Wednesday, police said.
Zainab's father and other relatives were present.
The case, the most heinous in a string of similar child murders in the city of Kasur, had sparked outrage and protests in the country.
Zainab disappeared on 4 January and her body was found five days later.
On 23 January, after widespread protests complaining of police incompetence, Imran Ali was arrested though a DNA match.
He was sentenced to death in February for Zainab's rape and murder. His appeals against the verdict failed and earlier this month President Arif Alvi rejected a plea for clemency.