North Korea's Kim Jong-un crosses into South Korea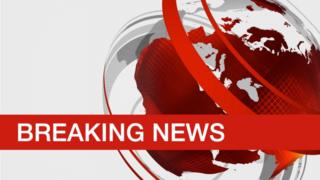 Kim Jong-un has become the first North Korean leader to set foot in South Korea by crossing the military line that has divided the peninsula since the end of the Korean War in 1953.
South Korean President Moon Jae-in met Mr Kim at the border at 09:30 (00:30 GMT) before talks begin.
Both men are on their way to the summit venue in the demilitarised zone (DMZ).
The historic meeting will focus on the North's recent indications it could be willing to give up its nuclear weapons.
But Mr Kim's recent re-engagement and apparent concessions and have divided analysts, with some questioning the sincerity of his intentions.
Talks are also seen as a prelude to a proposed meeting between Mr Kim and US President Trump by early June, an unprecedented move as no sitting US president has met with North Korean leader.
This is a breaking news story – more to follow.