Naples woman killed in 'mafia ambush'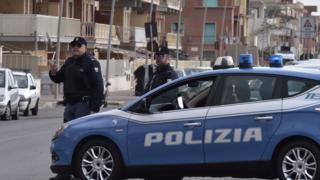 A woman was fatally shot three times in the face near central Naples in what police suspect was a mafia killing.
Mafia suspect Annamaria Palmieri, 54, had previous convictions for handling stolen property, criminal association and drugs, Italian media report.
The shooting took place in San Giovanni a Teduccio, just east of Naples port.
Women often play major roles in the family-based crime gangs in Naples, collectively known as the Camorra, an expert on the mafia told the BBC.
Prof Federico Varese, at Oxford University, said women were often messengers for imprisoned gang members and controlled the distribution of gang money.
San Giovanni a Teduccio is a poor area of Naples where parents often struggle to prevent their children being lured into Camorra crime, the daily newspaper Il Giornale reported last June.
In December the Naples police arrested four women close to jailed Casalesi mafia boss Michele Zagaria.
The four were put under house arrest and accused of receiving stolen goods, as well as paying a monthly stipend of €2,500 (£2,196; $3,063) to clan members.
They were named as: Michele's sister Beatrice Zagaria and his sisters-in-law Francesca Linetti, Patrizia Martino and Tiziana Piccolo.
"The Camorra clans are based on family ties and kinship. Unlike the Sicilian mafia, if you are born into that family you are all part of the gang. So women have a much bigger role than in say youth gangs in the US, or in Sicily," Prof Varese said.
"The boss is always a man, and if he goes to jail, it's usually his wife or sister who becomes the connection with the gang outside prison."
Read more on this topic:
In Sicily, police arrested 56 suspected mafia members in a big operation on Monday near Agrigento, on the island's south coast.
They included Francesco Fragapane, 37, described in Italian media as the son of a jailed Cosa Nostra leader.
The Cosa Nostra – the historic name for the Sicilian Mafia – is reported to be racketeering in migrant welfare projects, besides traditional extortion – "pizzo" – that preys on local businesses.
Francesco Fragapane is suspected of controlling organised crime in hill villages around Agrigento.