Michael Cohen scrubs 'Trump lawyer' Twitter bio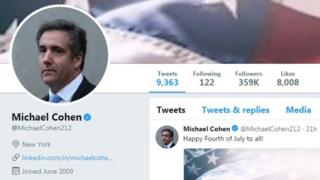 Michael Cohen has deleted a line in his Twitter bio saying he is the "personal attorney to President Donald J Trump".
He scrubbed the reference from his account just days after he told ABC News that he put "family and country" before his loyalty to the president.
Mr Cohen, whose home and office were raided by the FBI in April, is currently under criminal investigation.
He has reportedly suggested to friends that he would be willing to give prosecutors information on Mr Trump.
In an interview last week with ABC News' George Stephanopoulos, Mr Cohen said: "My wife, my daughter and my son have my first loyalty and always will. I put family and country first."
Mr Cohen had previously said he was so loyal to Mr Trump he would "take a bullet for him".
In addition to his Twitter bio, he also changed his LinkedIn profile to remove reference to Mr Trump.
By Thursday, what appeared to be his LinkedIn page also noted that he had terminated his employment as Mr Trump's personal attorney and a special counsel at the Trump Organization.
The lawyer – who has not been charged – is under investigation for possible bank and tax fraud, as well as possible violation of election law.
The latter is understood to relate to Mr Cohen paying off porn star Stormy Daniels during the 2016 election, which could count as an illegal contribution to President Trump's campaign.
Mr Trump admitted the money had exchanged hands in May.
There has been speculation that Mr Cohen – who denies any wrongdoing – might co-operate with prosecutors.
In the ABC interview, Mr Cohen said he would consult his newly appointed lawyer – former New York federal prosecutor Guy Petrillo – before deciding where his loyalties lie.
"I will not be a punching bag as part of anyone's defence strategy," he said when asked how he would respond if he is attacked by Mr Trump's legal team.
"I am not a villain of this story, and I will not allow others to try to depict me that way."
Once Mr Petrillo has settled into his role, the joint defence agreement between Mr Trump and Mr Cohen will end.
Michael Avenatti, Stormy Daniels' lawyer in her lawsuit against the president, said Mr Cohen would "eventually flip" and turn against Mr Trump, but only to "save himself".
On Twitter, he said Mr Cohen was "playing games" and trying to salvage his image in the public eye.
Mr Avenatti also said on Wednesday that he plans on running for president in 2020 if Mr Trump goes up for re-election – but only if there are no other candidates with "a real chance" of winning.