Mhlengi Gwala: Chainsaw attack athlete wants to compete again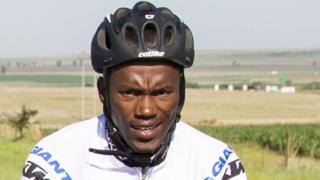 A South African athlete who was attacked by a gang who tried to saw off his legs has told the BBC he hopes to compete again after his recovery.
Mhlengi Gwala was attacked at gunpoint on Tuesday while doing triathlon training in Durban.
Mr Gwala says the attackers tried to cut his legs below the knees then left, leaving him to crawl to a road for aid.
A crowdfunding campaign launched in response has raised more than $53,000 (£39,000) for his medical treatment.
Speaking to the BBC's Focus on Africa programme from his hospital bed, Mr Gwala described being dragged at gunpoint into bushes while cycling in the early hours of Tuesday morning.
"Then they start the chainsaw," he said. "One man was holding my back, and another was holding my legs. And the other one cuts in [with the chainsaw]."
He said he had tried to call police and a friend but could not get an answer.
"So I crawled to the road and then I stopped a car, and that car took me to hospital," he said.
Surgeons in Durban operated on Mr Gwala on Wednesday. Doctors are hoping to save his legs but are concerned about the level of nerve damage he has sustained, Mr Gwala said.
The athlete was due to compete in the South African national championships this month and has twice represented the country in international competitions.
His money, phone and bicycle were not stolen and the motive for the attack is still unclear.
Mr Gwala told the BBC he did not know why he had been targeted but said he hoped he would be able to compete again in the future.
"People all over the world are praying for me… I'll carry on," Mr Gwala added.
Team South Africa's Olympic doctor Kevin Subban visited him on Thursday to discuss rehabilitation plans, the News24 website reports.
An investigation into the attack is under way but no arrests have yet been made, police say.