Merera Gudina, Ethiopia opposition leader, freed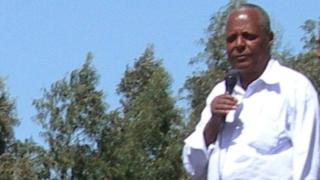 Jailed Ethiopian opposition leader Merera Gudina has been freed after more than a year in detention.
Prison authorities told his family that he was released on Wednesday morning and allowed to go back home.
He has been in prison since December 2016 and was facing multiple charges, including association with terrorist groups.
The Ethiopian government announced on Monday that it would drop charges against more than 500 suspects.
Mr Merera was arrested in November 2016 at the airport in the capital, Addis Ababa, after he flew in from Brussels.
He had violated Ethiopia's state of emergency by having contact with "terrorist" and "anti-peace" groups, state-linked media reported at the time.
That month, Mr Merera had criticised the state of emergency in an address to the European parliament.
The government imposed it in October 2016 to end an unprecedented wave of protests against its 25-year rule.
More than 11,000 people have since been arrested. Ethiopia has always denied that there were any political prisoners in the country, as alleged by human rights and opposition groups.
Mr Merera, who is the leader of the Oromo Federalist Conference, has previously criticised the arrests of hundreds of people from the Oromo and Amhara ethnic groups, which were at the forefront of anti-government protests.
Many in the two ethnic groups, two of the largest in Ethiopia, complain of political and economic marginalisation.