Macron party set for parliamentary landslide in France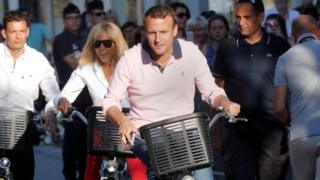 The centrist party of French President Emmanuel Macron looks set to win a landslide victory in the second round of parliamentary elections on Sunday.
Projections show La République en Marche (Republic on the Move or LREM) and its MoDem allies are set to win 75-80% of seats.
The run-off features the top candidates from last week's first round.
Traditional parties are urging voters to back Mr Macron's rivals to stop a monopolisation of power.
A party needs 289 seats to control the 577-seat National Assembly. LREM is predicted to win more than 400.
Mr Macron won the presidential election last month and he is now hoping to secure a solid majority to help push through his planned reforms for the country.
He formed his party just over a year ago, and half of its candidates have little or no political experience.
They include a retired bullfighter, a Rwandan refugee and a mathematician.
What happened in part one?
In the first round Mr Macron's LREM and MoDem won 32.3% of the vote.
The centre-right Republicans had 21.5%, while the far-right National Front (FN) had 13.2%, followed by the far-left La France Insoumise (France Unbowed) on just over 11%.
The Socialists, previously France's ruling party, and their allies won just 9.5%.
However, the turnout was low, despite claims that President Macron had re-energised the voting public.
Analysts said it reflected a sense of resignation among his opponents.
Who is in the second round?
Only four seats were settled in the first round.
The second round will see the two top-placed contenders for each seat facing each other, along with any other candidate who won the support of at least 12.5% of registered voters in the district.
Here are some of the key battles to look out for:
Ex-Education Minister Najat Vallaud-Belkacem could be turfed out of her Rhône seat by Bruno Bonnell from LREM
National Front MP Gilbert Collard is neck and neck with ex-bullfighter and LREM candidate Marie Sara
Manuel Valls, the unpopular Socialist ex-prime minister rejected as a candidate by both LREM and the Socialists, is tipped for victory in his Essonne seat
Leading centre-right figure Nathalie Kosciusko-Morizet has a real fight on her hands against LREM novice Gilles Le Gendre
FN leader Marine Le Pen is likely to win in the Pas-de-Calais department of northern France where she is facing LREM novice Anne Roquet
Far-left ex-presidential candidate Jean-Luc Mélenchon is expected to win his battle in Marseille against LREM first-timer, Corinne Versini
Can Macron's new party win majority he needs?
What are the challenges for Macron?
Mr Macron, 39, defeated Marine Le Pen in the presidential run-off in May.
He needs a majority to push through the changes that he promised in his campaign, which include:
Budget savings of €60bn (£51bn; $65bn) in the next five years
Cutting the number of public servants by 120,000
Reforming the labour market and generous state pension schemes, bringing them into line with private schemes