London attack: Trump and Macron lead world condemnation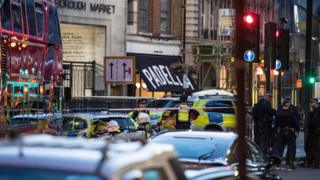 World leaders have condemned Saturday's terror attack in London which left six people dead and more than 30 injured.
US President Donald Trump tweeted: "Whatever the United States can do to help out in London and the UK, we will be there – WE ARE WITH YOU. GOD BLESS!"
Mr Trump also called for his travel ban on visitors from six predominantly Muslim countries to be upheld by US courts, where it is being challenged.
President Emmanuel Macron said France was more than ever at Britain's side.
"In the face of this new tragedy, France is more than ever at Britain's side. My thoughts go out to the victims and their loved ones."
Two French citizens were injured in the attack, one seriously, Mr Macron's office said in a statement.
Security measures were being "reinforced" so that French citizens in London would be able to vote in the first round of the country's parliamentary elections this Sunday, the French news agency AFP reported.
German Chancellor Angela Merkel said in a statement (in German): "Today we are united across borders in horror and mourning, but also in determination.
"For Germany, I reiterate that in the fight against all forms of terrorism, we are resolutely at Britain's side."
European Commission President Jean-Claude Juncker said he was following the latest incidents "with horror". He said: "Thoughts and prayers are with the victims and their families. Please stay safe."
Commonwealth leaders also rallied round the UK.
"Awful news from London tonight. We're monitoring the situation," said Canadian Prime Minister Justin Trudeau on Twitter.
Australia's Malcolm Turnbull said: "Prayers and resolute solidarity are today as always with the people of Britain in the face of the shocking terrorist attacks in London."
"New Zealand's thoughts are with the victims of today's attack," said Prime Minister Bill English. "Too many lives are being taken by terrorists set on inflicting pain and suffering on innocent people."
Travel ban controversy
Mr Trump retweeted a line from right-wing website Drudge Report about the attacks. He followed it with a tweet calling for tough action:
"We need to be smart, vigilant and tough. We need the courts to give us back our rights. We need the Travel Ban as an extra level of safety!"
Mr Trump's executive order has caused controversy and its legality is being challenged.
The tweet also provoked sharp rebukes on social media.
"Opportunist-in-Chief speaks," tweeted terrorism expert and Georgia State University Professor John Horgan.
Meanwhile British human rights barrister Adam Wagner tweeted: "Message from London: political point scoring is the absolute, LAST thing we need right now."
A few minutes after the first two tweets, Mr Trump sent his message of support for the UK.
The US state department also issued a statement offering solidarity.
"The United States stands ready to provide any assistance authorities in the United Kingdom may request," it said.