Kentucky school shooting: Two teenagers dead and 19 injured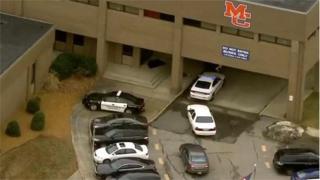 Two people are dead and 19 injured after a shooting at a high school in the US state of Kentucky.
A 15-year-old girl died at the scene and a 15-year-old boy died in hospital, according to Kentucky Governor Matt Bevin.
The attacker was a 15-year-old male student, who was arrested and is in custody.
The unidentified suspect opened fire at Marshall County High School in Benton on Tuesday morning.
"This is a tremendous tragedy and speaks to the heartbreak present in our communities," Governor Bevin said in a statement on Twitter.
"It is unbelievable that this would happen in a small, close-knit community like Marshall County.
"As there is still much unknown, I encourage people to love on each other at this time. Do not speculate, but come alongside each other in support and allow the facts to come out."