Kavanaugh accuser says alleged assault 'altered my life'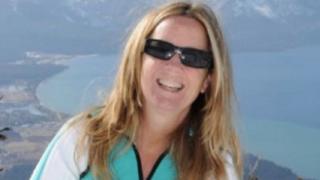 The first of three woman to accuse Supreme Court nominee Brett Kavanaugh of sexual misconduct has said the assault "drastically altered" her life.
Prof Christine Blasey Ford's written testimony describes how the alleged incident between her and the judge has had a "lasting impact" on her.
Prof Ford and Judge Kavanaugh are due to testify before a Senate panel about her allegations on Thursday.
Judge Kavanaugh has repeatedly denied the allegations against him.
"Brett's assault on me drastically altered my life. For a very long time, I was too afraid and ashamed to tell anyone the details," she wrote in testimony provided to the Senate Judiciary Committee ahead of tomorrow's hearing.
"I tried to convince myself that because Brett did not rape me, I should be able to move on and just pretend that it had never happened."
Prof Ford alleges Judge Kavanaugh tried to drunkenly remove her clothing, pinned her to a bed and covered her mouth at a high school party when she was 15 and he was 17.
She said the fact that he covered her mouth "terrified" her the most and has had "the most lasting impact".
"I believed he was going to rape me," she said. "It was hard for me to breathe, and I thought that Brett was accidentally going to kill me."
"It is not my responsibility to determine whether Mr Kavanaugh deserves to sit on the Supreme Court. My responsibility is to tell the truth," she added.
In a news conference in New York on Wednesday, President Donald Trump said he was open to changing his mind on his Supreme Court nominee after he heard testimony at Thursday's Senate panel hearing.
But the president continued to defend Judge Kavanaugh, calling him "one of the highest quality people" he had ever met and described the accusations as "a con job" by the Democrats.