Justin Bieber cancels remaining Purpose World Tour dates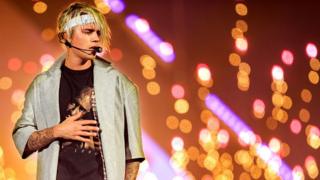 Justin Bieber has cancelled the rest of his Purpose World Tour because of "unforeseen circumstances", his publicist has said.
The move will affect 14 dates in Asia and North America over the next three months.
Bieber has performed more than 150 shows since the tour promoting his 2015 album Purpose began in March 2016.
The tour grossed $93.2m (£71.5m) in the first half of 2017, with an average of almost 40,000 ticket sales per date.
The singer himself has not yet commented on the decision on social media, but unnamed sources told US media he was "just over it".
Most of Bieber's remaining dates were in the US, but he was also due to play in Japan, Hong Kong, the Philippines, Singapore and Indonesia.
Chinese officials said last week that the Canadian pop star had been banned from mainland China because he had engaged in what they described as "bad behaviour".