José Manuel Maza: Spain's attorney general dies aged 66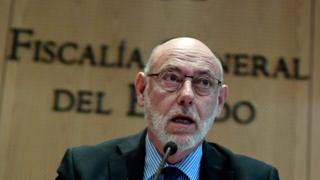 Spain's attorney general José Manuel Maza has died suddenly in Argentina, where he was attending a conference. He was 66.
Earlier on Saturday he had been reportedly taken to an intensive care unit with a kidney infection.
Last month, Mr Maza called for charges to be brought against Catalan leaders, following a banned independence referendum in the region.
Spain's political leaders have been paying tribute.
In a tweet (in Spanish), Prime Minister Mariano Rajoy expressed his "deepest condolences" to Mr Maza's family and friends.
Justice Minister Rafael Catalá described Mr Maza as an extraordinary lawyer and public servant.
Mr Maza was appointed Spain's attorney general in November 2016.