IS conflict: Syrian army closes in on Deir al-Zour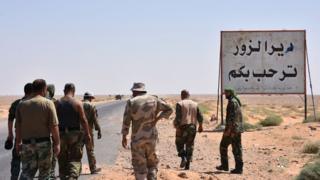 Syrian government forces are closing in on the eastern city of Deir al-Zour, which has been besieged by so-called Islamic State (IS) for three years.
A rapid advance through the desert on Sunday brought troops to within 10km (6 miles) of the government enclave in the city's west, pro-government media said.
A monitoring group also reported that they had reached the edge of the government-held Brigade 137 base.
IS controls half of Deir al-Zour and much of its surrounding province.
It is the jihadist group's last major stronghold in Syria, with the de fact capital of Raqqa under siege by a US-backed alliance of Syrian Kurdish and Arab fighters.
There about 93,000 civilians living in the government enclave in Deir al-Zour. They have been dependent on supply flights by the Syrian military and air drops of aid by the United Nations for years.
Malnutrition was said to be widespread in early 2016 and there were unverified reports of people dying from starvation.
The official Sana news agency cited provincial governor Mohammed Ibrahim Samra as saying that residents had celebrated on the streets on Sunday evening after learning that soldiers and pro-government militiamen were close.
"They are filled with joy waiting to welcome the heroes of the army, who are going to break the siege," he said.
The military media unit run by Lebanon's Hezbollah movement, whose fighters have played a key role in the advance towards Deir al-Zour, broadcast what it said was video footage of the celebrations.
It also reported that pro-government forces had taken control of hills in the city's western countryside and cut off IS supply routes on Sunday.
The Syrian Observatory for Human Rights, a UK-based monitoring group, confirmed that there had been violent clashes and intense shelling in the area.
Later, the group's director Rami Abdul Rahman said soldiers and militiamen had reached the edge of the Brigade 137 base and were battling militants inside.
"If the regime soldiers succeed, they will have broken the siege on the base and the neighbouring Deir al-Zour district of al-Jura," he told AFP news agency.
However, there was no confirmation from Hezbollah or pro-government media.