Irish anti-abortion doctors in conscientious objection row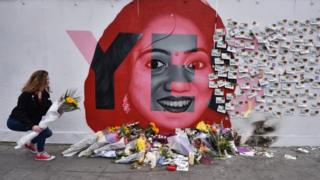 A row over conscientious objection has broken out in Ireland as legislation to introduce abortion services is brought before parliament on Thursday.
Anti-abortion doctors have said they do not wish to be forced to refer a pregnant woman seeking a termination to another doctor.
Ireland voted to overturn its abortion ban in a referendum in May.
Health Minister Simon Harris has said he hopes abortion services will be available from January 2019.
What's happening?
Abortion legislation will be debated in the Dáil (parliament) from 14:15 GMT for the first time since the 8th amendment – a near total constitutional ban on abortion – was removed.
The bill allows for abortion services to be provided "on demand" – up to the 12th week of a pregnancy, in the case of a fatal foetal abnormality or where the physical or mental health of the mother is in danger.
Taoiseach (Prime Minister) Leo Varadkar and Health Minister Simon Harris have both said they expect services to be up and running in Ireland by early next year. Mr Harris has said that terminations will be made available free of charge, as part of a GP-led service.
Why are some doctors objecting?
The bill allows for doctors to opt out of providing a medical or surgical abortion if they do not wish to perform the procedure. But they must refer a woman seeking an abortion to another doctor who will carry it out.
Anti-abortion doctors have lobbied the government to remove any requirement to transfer women seeking a termination to another doctor.
Dr Kirsten Fuller, spokesperson for Doctors for Freedom of Conscience estimates that "several hundred" doctors objected to this.
She told the BBC: "We don't want to thwart the referendum result, we're just asking that we're given freedom of conscience in the truest form where we don't have to refer to another doctor."
"Abortion is the ending of a human life and we don't want to partake in that in any sense."
"We want to continue to give compassionate care to all mothers and their children," she said.
The health minister said that conscientious objection was one thing, but refusing to refer women wishing to terminate their pregnancies to other doctors was quite another.
What happens next?
The bill must be passed by the Irish parliament and the Irish senate before it officially becomes law.
Anti-abortion TDs have said they want to table amendments to the legislation. The health minister has said he will not accept them as the Irish people gave a clear mandate "to get on with it" when they voted to overturn the abortion ban by 66.4% to 33.6%.
Separate legislation will be introduced at a later date to allow for "safe access" zones – designated areas that prevent protests around centres providing abortion services.
The government must work with doctors to implement services and provide training and support. Dr Mary Favier, founder of Doctors for Choice, told the Irish Times that planning for abortion by the Department of Health had been "a shambles".
"There's been no clinical lead appointments. There's been no technical round tables established. There's been effectively no meetings held," she said.
Mike Thompson, a GP in east Cork told the BBC the the government's proposed timeline of January 2019 was "ambitious" and "challenging."
"Unless there is a clear and robust guidelines, no GP will provide the service. It has to be safe."
Has conscientious objection worked elsewhere?
Abortion has been legal in Italy, a predominantly Catholic country, since 1978, but it can be difficult for women to access the procedure there.
The proportion of Italian gynaecologists refusing to carry out abortions in 2013 was 70%, according to Italian government figures. In southern Italy the proportion was even higher and in Sicily it was 87.6%.
In 2014, a Polish doctor was sacked after refusing to perform an abortion on faith grounds.
Two Roman Catholic midwives in Scotland lost a legal battle in 2012 to avoid taking part in abortion procedures because of their conscientious objections.
But it is unclear how a small number of GPs objecting will affect the rollout of services in Ireland.