Iranian President Hassan Rouhani's brother detained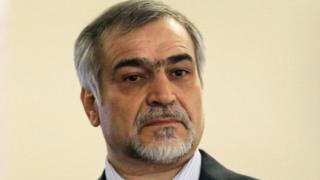 The brother of Iranian President Hassan Rouhani, Hossein Ferydoun, has been detained, a judiciary spokesman says.
Mr Ferydoun failed to meet the bail terms on unspecified financial issues and was taken to prison.
He has been linked to officials at the centre of a scandal involving inflated salaries for managers at the state insurance company. He has always denied any wrongdoing.
The saga has dogged President Rouhani for more than a year.
The judiciary spokesman, Gholamhossein Mohseni-Ejeie, said: "Multiple investigations have been conducted regarding this person [Mr Ferydoun], also other people have been investigated, some of whom are in jail.
"Yesterday, bail was issued for him but because he failed to secure it he was referred to prison."
Mr Ejeie said Mr Ferydoun would be "released once he provides the bail".