Honduras tightens security ahead of President Hernández inauguration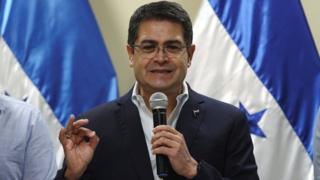 Honduran President Juan Orlando Hernández is set to be sworn in for a second term amid high security after a disputed presidential election.
Soldiers have been deployed on the streets of the capital, Tegucigalpa, following calls by the opposition for mass protests on Saturday.
President Hernández's win in November has been widely criticised, with his party accused of electoral fraud.
More than 30 people have been killed in violence since the vote.
The Opposition Alliance Against the Dictatorship, which accuses President Hernández of putting in place a "military dictatorship", has urged its supporters to participate in demonstrations during his inauguration.
In previous protests, riot police have used tear gas to disperse demonstrators who set up roadblocks made of burning tires across the country.
Supporters of opposition leader Salvador Nasralla remain deeply suspicious of the electoral tribunal that counted the ballots. This is because it is appointed by Congress, which is controlled by President Hernández's National Party.
Mr Nasralla initially established a lead as the votes were being counted in the 25 November ballot, but his lead quickly diminished and he accused the authorities of manipulating the results.
Thousands of people have taken to the streets in rival demonstrations following the election.
President Hernández, 49, has been in power since 2013, and is the first president to run for a second term after the country's supreme court lifted a ban on re-election.