Hakeem al-Araibi: Refugee footballer to return to Australia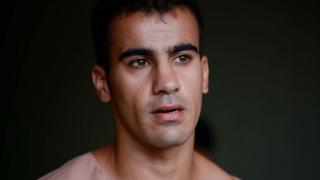 The wife of a refugee footballer freed from detention in Thailand says the couple's nightmare is finally over.
Hakeem al-Araibi, a Bahraini citizen, will return home to Australia on Tuesday after being held for two months in a Bangkok prison.
He was detained in November on an Interpol notice requested by Bahrain, after travelling to Thailand on honeymoon.
An international human rights campaign for his release succeeded on Monday.
The footballer's wife told the BBC she was deeply thankful for the lobbying efforts of the Australian government and public, and the international football community.
"I have had a smile all the time on my face and I can't stop crying – I am just so happy," said the 24-year-old, who does not wish to be named.
"I prayed and prayed that he would come back to me, and finally our nightmare is ending," she said.
The 25-year-old footballer had been sentenced in Bahrain in absentia to 10 years for vandalising a police station, charges which he has denied.
He fled to Australia in 2014, where he settled in Melbourne and was granted political asylum.
His wife and human rights activists had warned that al-Araibi, a vocal critic of Bahrain authorities, could face torture if sent back to the Arab kingdom.
Last month, she had issued a plea for world leaders to pressure the Thai government for his release.
The Australian government, football's international governing body Fifa and the International Olympic Committee had all lobbied Thailand over the case.
His case had also been taken up by football stars including Didier Drogba and Jamie Vardy.
On Monday, Thai officials told the BBC they had released al-Araibi because Bahrain was no longer seeking his extradition.
Bahrain's foreign ministry said that despite the end of court extradition proceedings, the footballer's conviction still stood.
"The Kingdom of Bahrain reaffirms its right to pursue all necessary legal actions against Mr al-Araibi," it added.
Australian Prime Minister Scott Morrison told reporters on Monday he was thankful to Bangkok for "listening to the issues" raised by his nation.
"Now the next step is for him to return home. But as it always is in these cases, people aren't home until they're home," he said.
Al-Araibi is expected to be greeted by a crowd of supporters, including his football team, Pascoe Vale FC upon his return to Melbourne on Tuesday afternoon.