Gina Haspel: Who is Trump's pick as CIA director?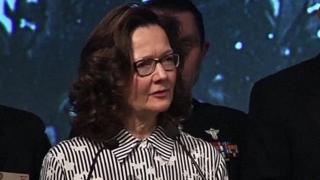 Gina Haspel, the newly nominated first-ever female director of the Central Intelligence Agency (CIA), is a career intelligence officer with more than 30 years' experience.
Controversially, she ran a prison in Thailand where suspected al-Qaeda members were tortured by waterboarding in 2002.
The so-called black sites – secret overseas locations where the CIA carried out what it termed "enhanced interrogation" techniques – were closed by former US President Barack Obama.
However, President Donald Trump has since spoken out in favour of the harsh interrogation of suspects.
Ms Haspel's appointment last year as deputy director of the CIA caused controversy.
Christopher Anders, deputy director of the American Civil Liberties Union's Washington office, told the New York Times he was "gravely concerned" about the appointment.
At the time, then CIA director Mike Pompeo described her as "an exemplary intelligence officer" with an "uncanny ability to get things done and to inspire those around her".
She was picked for the top job when President Trump named Mr Pompeo as Secretary of State to replace Rex Tillerson.
In a statement, she said: "I am grateful to President Trump for the opportunity, and humbled by his confidence in me, to be nominated to be the next Director of the Central Intelligence Agency. If confirmed, I look forward to providing President Trump the outstanding intelligence support he has grown to expect during his first year in office."
A return to dark practices?
Analysis by Tara McKelvey, BBC News, Washington
The White House shakeup has profound implications – and particularly for the CIA. The agency's work is conducted with nominal oversight, and many decisions hinge on the discretion of the director. This morning the president spoke approvingly of the acting director, Gina Haspel, pointing out that she's a woman in a high leadership position.
As an intelligence officer, she was known for her harsh views: she ran a notorious black site in Thailand, a place where prisoners were waterboarded. She's now working for a president who's been ambivalent about the matter. He said in the past he wanted to bring back waterboarding. James Mattis, the defence secretary, convinced him otherwise.
The president could change his mind again – if Ms Haspel and other intelligence officials said they believed it was necessary. In this way the US could return to its dark practices of black sites and brutal interrogations.
Although her appointment still needs to be confirmed by the Senate, Richard Burr, chairman of the Senate Intelligence Committee, said he looked forward to supporting the nomination.
"I know Gina personally and she has the right skill set, experience, and judgement to lead one of our nation's most critical agencies," he said.
The "black site" in Thailand run by Ms Haspel oversaw the interrogations of al-Qaeda suspects Abu Zubaydah and Abd al-Rahim al-Nashiri.
Declassified CIA cables revealed Zubaydah was waterboarded 83 times in one month and had his head slammed into walls.
He was also subjected to sleep deprivation and other harsh methods before interrogators decided he had no useful information to disclose, the documents said.
Waterboarding is an interrogation process that causes the subject to experience the sensation of drowning.
The subject is strapped to an angled board facing down and a cloth is placed over their mouth. Water is poured over the face, creating the feeling that the lungs are filling with water.
Recordings of the interrogation sessions were later destroyed. According to the New York Times, Ms Haspel's name was on the cable that carried the destruction orders.
Human rights organisation Reprieve said the episode showed Ms Haspel was "not fit" to run the CIA.
"This is another example of Donald Trump's backward-looking reliance on people and methods that have failed." director Maya Foa said in a statement.
Ms Haspel's CIA profile says she has extensive overseas experience and has served as chief of station on several assignments.
Her leadership positions in Washington include deputy director of the National Clandestine Service and chief of staff for the director of the National Clandestine Service.
Ms Haspel's awards include the George H W Bush Award for excellence in counterterrorism and the Presidential Rank Award, which is the most prestigious award in the US federal civil service.