German election: Merkel facing tough red lines for coalition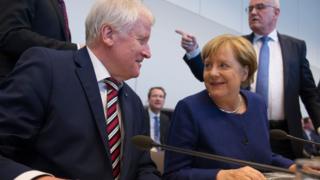 Chancellor Angela Merkel has been warned by potential coalition partners she faces a tough task in pulling together a workable German government.
"Politics is not mathematics," warned the leader of the business-friendly FDP, Christian Lindner, seen as a natural coalition ally.
In a separate, dramatic development, Finance Minister Wolfgang Schäuble was reported to have lost his job,
He will take on the role of president of the Bundestag, sources say.
Mr Schäuble, 75, has long been seen as an influential figure in the eurozone and a leading advocate of austerity measures.
His post is known to be coveted by the FDP, and could be filled by Mr Lindner. German commentators said Mr Schäuble could use his political experience to control heated debates in parliament involving the right-wing nationalist AfD.
Uncertainty after the German election sent the euro to its lowest level for a month on Wednesday.
The most likely coalition for the chancellor's Christian Democrat CDU is with the FDP and the Greens. If she fails to reach a deal in coming months, Germany could face fresh elections.
'Change of course'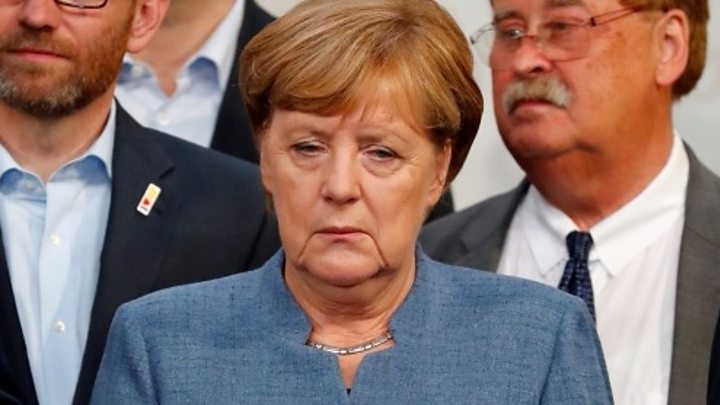 Mr Lindner told Die Welt newspaper that the arithmetic added up for a coalition with Mrs Merkel's party and the Greens, but his party's election mandate required "a change of course in German politics".
With the centre-left Social Democrats ruling out a coalition, the only deal likely to work would be a so-called Jamaica coalition, named after the black, yellow and green colours of the parties involved: the black CDU, yellow FDP and the Greens.
Mr Lindner, whose party disagrees with the Greens on Europe, education and migrant policy, accused some people of turning "Jamaica" into a "romantic political project".
Big differences on migrants
Mrs Merkel does not just face an uphill struggle with potential coalition partners.
She will also have to reach a compromise on immigration with the CDU's sister party in Bavaria, the CSU, which suffered big losses in Sunday's elections and faces a key vote for the Bavarian state assembly next year.
Bavaria is the arrival-point for most irregular migrants to Germany, and the right-wing nationalist AfD, which ran on an anti-immigration platform, picked up 12.4% of the vote, attracting voters from the CSU – which saw a fall in support of more than 10 percentage points to 38.8%.
CSU boss Horst Seehofer refused to resign when he faced party colleagues on Wednesday.
The CSU is seeking an annual cap of 200,000 migrant arrivals, but Mrs Merkel is opposed to a limit, and the Greens vehemently reject it.
"The CSU will have to take this on board if it's serious about Jamaica," Green leader Simone Peter warned.
The FDP wants a Canadian-type points-based immigration system, dependent on a migrant's job qualifications, while the Greens want to allow family reunions.
French president makes task harder
Mrs Merkel also faces a difficult task in finding common ground on Europe, particularly after a speech on Tuesday by French President Emmanuel Macron.
Mr Macron called for the eurozone to have its own finance minister and budget, as well as for an EU asylum agency, a beefed-up border guard and a common military strategy. If any of his ideas are to work, he will need the support of the next German government.
But Christian Lindner of the FDP has firmly rejected any common eurozone budget if it means making automatic financial transfers from wealthier eurozone countries to poorer ones.
The Greens are in favour of several of Mr Macron's plans but the CSU in Bavaria is opposed to new EU institutions such as a eurozone finance minister.