France approves controversial immigration bill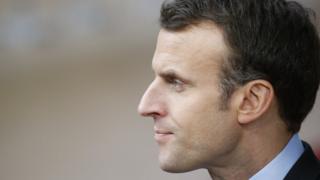 The French National Assembly has passed a tough new immigration law that tightens the rules around asylum.
The bill shortens asylum application deadlines, doubles the time for which illegal migrants can be detained, and introduces a one-year prison sentence for entering France illegally.
President Emmanuel Macron's governing centrist party says the bill will speed up the process of claiming asylum.
But opposition figures and human rights groups say the measures go too far.
The bill passed by 228 votes to 139, with 24 abstentions. Far-right National Front MPs backed the government while left-wing parties voted against.
The vote spilled into the weekend after hundreds of amendments were proposed.
One member of Mr Macron's La République en Marche (LREM) party, Jean-Michel Clément, voted against the legislation and 14 members abstained.
"I am not sure we're sending to world citizens the universal message that has always been ours," Mr Clément, a former Socialist, said in a statement after the vote. He later announced he was leaving the parliamentary group.
Human Rights Watch say shortening asylum application deadlines could negatively impact the "most vulnerable asylum seekers, who would be the ones most likely to miss the deadline".
"Under the guise of providing a more effective asylum system, the bill includes a series of measures that would diminish access to protection," the group's France director Bénédicte Jeannerod said in a statement.
The bill will now be debated in the upper house, the Senate, in June.
A note on terminology: The BBC uses the term migrant to refer to all people on the move who have yet to complete the legal process of claiming asylum. This group includes people fleeing war-torn countries such as Syria, who are likely to be granted refugee status, as well as people who are seeking jobs and better lives, who governments are likely to rule are economic migrants.