Forest fires kill 19 in central Portugal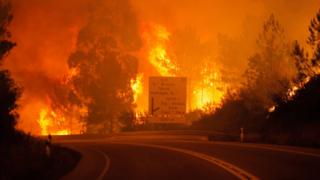 At least 19 people have been killed in forest fires in central Portugal.
The majority died while trying to flee the Pedrogao Grande area in their cars, according to the government.
Several fire fighters are also reported to be injured.
Secretary of State for the Interior Jorge Gomes told the press that three people died from smoke inhalation and 16 died in their cars on the road linking Figueiro dos Vinhos to Castanheira de Pera.
It is not yet known what caused the fire, which has also burnt down houses in the area.