Floods prompt search for missing people in Europe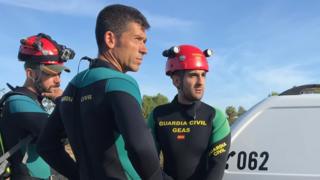 The search continues for missing people following flash flooding events in Spain, Italy, and France.
Ten people died in Majorca, Spain, including two British citizens. Three more remain unaccounted for, including a five-year-old child.
Elsewhere, torrential rain and flooding killed a number of people caught in their cars during floods.
Two people died in Sainte-Maxime on France's south coast, while a woman was found dead in Sardinia.
Search for missing boy
The two British victims of the Majorca floods have been named locally as Anthony and Delia Green, a pair of holidaymakers in their 70s.
They were discovered in their taxi, which had been swept away by the water near the tourist town of Sant Llorenç. The body of the taxi driver was discovered nearby.
More than one hundred rescue workers searched through the night for the missing five-year-old boy. He is believed to have been in a car with his mother, who is among the victims.
His sister, who was also in the car, survived and was rescued.
The other two missing people are German nationals.
Local newspaper Diario de Mallorca reports that as of Thursday morning, 323 people are searching for the survivors – a combination of police, emergency responders, and military personnel.
Meanwhile, the cleanup continues in the badly hit town of Sant Llorenç.
The world's number one tennis player, Rafael Nadal, has opened the doors of his tennis academy in the next town over, Manacor, and was photographed taking part in the cleanup effort as a volunteer.
Nadal was born in Manacor. He tweeted his condolences to victims' families, calling it a "sad day for Majorca".
Swept into the sea in France
In France, the rise of the river Garonnette in Saint-Maxime caused five cars to be swept away by the nearby sea.
One of the cars had its headlights on, and witnesses said a person was behind the wheel at the time.
On Thursday morning, French broadcaster BFMTV said divers had discovered the vehicle in the water, and announced two deaths.
The victims have not been identified, but are understood to have been two passengers from the same vehicle.
Saint-Maxime lies in the Var region, where local authorities had urged people not to take to the flooded roads and seek shelter during the heavy rainfall.
BFMTV said that 210mm (8in) of rain fell on Wednesday night – two months' worth of normal rainfall. Search and rescue teams were forced to suspend their work overnight, resuming on Thursday morning.
The regional leader, Jean-Luc Videlaine, warned that the death toll may rise.
Bridge collapses in Sardinia
In Italy, the Cagliari area of Sardinia has also been hit by bad weather, and one woman was found dead on Thursday.
She was declared missing on Wednesday night, after her car became trapped by the flooding.
Italian news agency Ansa named her as 45-year-old Tamara Maccario, and said she and her family had left their home near a river over fear of the impending floodwater. The vehicle was swept away at about midnight on Wednesday.
Ansa reports that one of the woman's daughters was found clinging to a tree, while two other children and their father were found in two separate homes nearby.
Ms Maccario's body was found on Thursday morning. Another man has also been reported missing.
Large parts of Cagliari remain underwater, demonstrated in a video posted by Italian emergency responders.
Roads and bridges have also been damaged.
Dozens of people have been evacuated, and several roads have been closed due to either collapse or dangerously high water levels.