Five wrestlers who proved there's life beyond the mat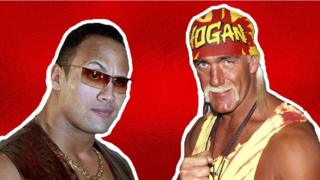 Forging a career as a professional wrestler requires serious dedication and a huge amount of personal sacrifice.
From the constant risk of injury to the strict diet, there is no easy path to becoming a star and achieving the fame and fortune that comes with it.
But as with most sports, a career in the ring is usually short-lived.
So what can a wrestler do once they hang up the spandex for good? After all, body-slams and suplexes aren't exactly transferable skills.
Perhaps Glenn Jacobs, who wrestling fans will know better as Kane, can provide some inspiration. The 51-year old WWE star has just been elected a mayor in the US state of Tennessee.
The Republican won two-thirds of the vote in Knox County after campaigning on issues such as keeping taxes low and improving infrastructure.
But he is by no means the first wrestler to forge a successful second career. Here are five more.
1. Jesse Ventura
Nicknamed "the Body'", Jesse Ventura shot to fame as a wrestler and commentator in the 1970s and 1980s.
He went on to become a city mayor in Minnesota before launching an outsider bid in 1998 to become state governor.
The campaign was widely derided as a publicity stunt and he was given little chance of winning.
His advertising campaign showed him as an action figure battling lobbyists and did little to counter his image as a joke candidate.
But against all odds he defeated both Republican and Democratic candidates in a political shock that seemed to stun Ventura himself.
"Now what the hell do we do?" he said moments after winning the race.
In 2000, the Vietnam veteran met Donald Trump who was contemplating a bid for the presidency and seeking advice on running an outsider political campaign.
Perhaps some of that advice was put to use in 2016.
2. Dwayne Johnson
Dwayne "the Rock" Johnson started out his sporting career as a promising American football player but was let go from the Canadian Football League in 1995.
He became one of the most recognisable wrestlers in the world during the late 1990's, fighting the likes of Steve Austin and Triple H.
But he turned to acting in the 2000s and has starred in Hercules, Central Intelligence, San Andreas and multiple Fast & Furious films.
His acting career has been hugely successful, and last year he was named as one of the most highly paid actors in Hollywood.
Many of his fellow WWE stars, such as John Cena and Dave Bautista, have also managed to break into the film industry but no one has matched the Hollywood success of "The Rock".
He has even mooted taking the wrestler-to-politician career path to its ultimate conclusion and running for president in 2020, but ruled it out [for now] earlier this year.
"It's something that I seriously considered. What I need is time to go out and learn." he said.
3. Hulk Hogan
Hulk Hogan made his wrestling debut in 1977 and, complete with his distinctive blonde moustache, went on to become one of its most recognisable names.
In the glory days of "Hulkamania", Hogan was a multiple winner of the WWE's top titles, as well as serving a successful stint in rival WCW.
He has had an eclectic career that included starring in his own reality television show with his family.
The show – titled Hogan Knows Best – ran for two years and led to a spin-off that focused on his daughter, Brooke.
He has also opened a number of restaurants, including a short-lived themed restaurant in Minnesota, and worked as a voice actor.
But in recent years his personal problems have damaged his reputation. The WWE terminated his contract in 2015 after a tape emerged of him using a racist slur, but he was reinstated last month after the company said he deserved a second chance.
4. Dennis Knight
Although not as high-profile as the likes of Hulk Hogan and "the Rock", Dennis Knight's professional wrestling career lasted almost a decade.
He worked with the WWF and the WCW under a number of nicknames, most notably Mideon and Tex Slazenger. In the late 1990's he won the WWE's tag team championship and fought as part of a team led by wrestling superstar The Undertaker.
Since retiring, Knight has swapped the ring for the kitchen having embarked on a career as a chef. He has also opened his own catering company in Clearwater, Florida.
The former wrestler told the WWE in 2013 that wrestling has helped him prepare for his culinary career.
"The cooking is almost secondary," he said. "They have to do promos, like 'Here's a plate of linguini with clam sauce, talk about it for 30 seconds.' That's what we do in wrestling. I have 20 years of experience in that."
5. Debrah Miceli
WWE's Debrah Miceli, also known as Alundra Blayze and Madusa, wrestled at a high-level for almost 20 years.
In school, she had success in athletics and gymnastics but she has found success in something altogether different since retiring from the ring.
She made her debut as a monster truck driver in 2000 and has become one of the few female drivers on the professional circuit.
Miceli became the first woman to win the Monster Jam World Finals racing championship in 2005, beating her trainer Dennis Anderson.
In recent years she has also hosted her own podcast in which she has interviewed a number of wrestling icons.