F-35 jets: US military grounds entire fleet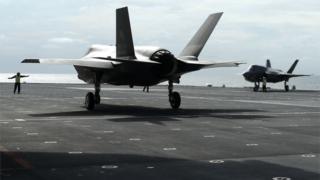 The US military has temporarily grounded its entire fleet of F-35 fighter jets in the wake of a crash in South Carolina last month.
Inspections are to be carried out on faulty fuel tubes.
An official report questioned earlier this year whether the F-35 was ready for combat after dozens of faults were found.
The F-35 is the largest and most expensive weapons programme of its type in the world.
The programme is expected to last several decades and global sales are projected to be 3,000.
The aircraft, which uses stealth technology to reduce its visibility to radar, comes in three variants.
The crash in South Carolina involved an F-35B, which is able to take off and land vertically and costs around $100m (£75m).
The pilot in that incident ejected safely, but the aircraft was destroyed.
The plane, manufactured by Lockheed but including parts made in several other countries, has been sold to a number of nations, including the UK and Japan.
It was first used in combat by Israel earlier this year to carry out two strikes.
In statement, the F-35 Joint Program Office said the US and its international partners had suspended flight operations while a fleet-wide inspection of fuel tubes was conducted.
"If suspect fuel tubes are installed, the part will be removed and replaced. If known good fuel tubes are already installed, then those aircraft will be returned to flight status.
"Inspections are expected to be completed within the next 24 to 48 hours."