Ex-NFL star Jay Feely says prom gun photo a 'joke'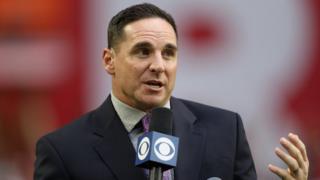 A former NFL star has said a photo of him holding a gun while standing between his daughter and her prom date "was obviously intended to be a joke".
Jay Feely, a kicker who played for several teams from 2001-14, was excoriated online after posting the photo to Twitter on Saturday.
On Sunday, the 41-year-old went back on Twitter to say the couple have dated for over a year and knew he was joking.
Feely said the pistol was not loaded and he takes gun safety seriously.
In Saturday night's tweet the father-of-four wrote: "Wishing my beautiful daughter and her date a great time at prom #BadBoys".
After an online backlash, Feely wrote on Twitter on Sunday: "The prom picture I posted was obviously intended to be a joke.
"My Daughter has dated her boyfriend for over a year and they knew I was joking.
"I take gun safety seriously (the gun was not loaded and had no clip in) and I did not intend to be insensitive to that important issue."
Feely is an American football analyst for CBS Sports who lives in Arizona, according to his Twitter biography.