'Code red' storm halts Dutch trains and flights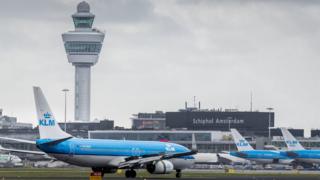 Dutch authorities have suspended all flights to and from Amsterdam Schiphol airport because of a severe storm.
Most rail traffic has also stopped as winds gust at up to 140km/h (90mph) across the Netherlands.
Schiphol, one of Europe's busiest airports, gave no estimated time for flights to resume.
Dutch Twitter users have posted photos of trucks and trees blown over by the gales. Many trees have come down on railway lines.
Police have closed the centre of Almere, a city with about 200,000 residents lying just east of Amsterdam.
They tweeted an alert warning people to stay at home because of risk from the storm.
Dutch people in the path of the storm are using the hashtag #coderood to tweet photos of the storm damage.
A transport website, VID, reported 17 trucks blown over by the strong winds.
The Dutch Railways (NS) and operator ProRail said overhead power lines had been damaged by the wind, as well as some railway tracks.
An alert on the NS website said: "A hurricane-force storm is raging over our country and causing a lot of damage to the rail network and stations.
"NS and ProRail therefore have to stop the train service until further notice. Only Arriva trains in Groningen and Limburg can continue running."