Catalan protests: Tens of thousands mark vote anniversary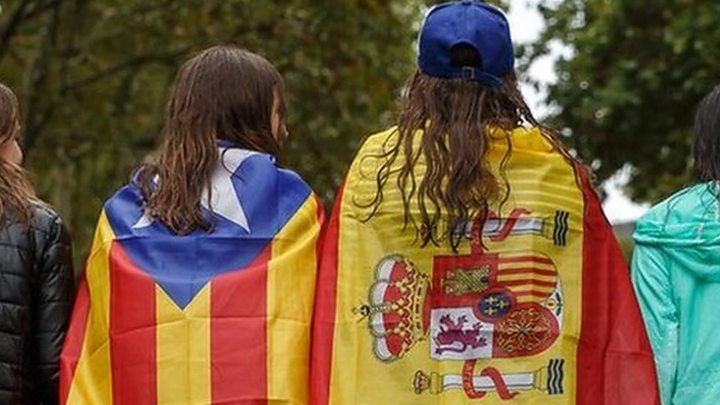 Tens of thousands have gathered across cities and towns in Catalonia to mark the one-year anniversary of the contested referendum on independence.
Municipal police said up to 180,000 protesters gathered in Barcelona pushing for independence, AFP reports.
Demonstrators earlier obstructed major roads south of the city and a high-speed railway line in Girona.
Catalonia held the vote on 1 October 2017 and its separatist government declared independence on 27 October.
But Spain's constitutional court deemed the referendum illegal and Madrid imposed direct rule.
At the time, there were ugly scenes on the streets as Spanish police tried to prevent people from going to the polls.
The anniversary protests were organised by the Committees for the Defence of the Republic (CDRs), which are demanding a clean break with the Spanish state.
The CDRs briefly blocked rail service between Barcelona and Figueres, as well as city streets in Lleida and Barcelona and the motorway between the coastal city and the Spanish capital, Madrid.
CDR groups also demonstrated in cities around the world, including in London and Paris.
'Putting on the pressure'
In June, Spain ended its temporary direct rule over the region, as a new nationalist-led government was sworn in there, headed up by Quim Torra.
Speaking earlier at a ceremony at Sant Julia de Ramis, northern Catalonia, Mr Torra praised activists for "putting on the pressure".
Mr Torra succeeded Carles Puigdemont, who fled into exile in Belgium after the failed independence bid.
The AFP news agency earlier reported that 500 people marched through Barcelona, setting off firecrackers and chanting "We voted and we won". Some called for Mr Torra to step down for not pushing hard enough for independence.
Activists reportedly tore down the Spanish flag in the Catalonia regional government building in Girona, replacing it with the separatist yellow, red and blue flag.
Spanish Foreign Minister Josep Borrell, who is Catalan, said it was up to Mr Torra and the Catalan regional government to maintain public order.
"We will continue to try to lower tensions… and demand that everyone assume their responsibilities," he told reporters in Madrid.
An opinion poll in July suggested 46.7% of Catalans favoured independence and 44.9% opposed it.
Spain's Supreme Court has withdrawn its European Arrest Warrants against Mr Puigdemont and five of his aides who remain abroad.
But the charges against them remain, meaning they still face arrest if they return to Spain.