Billionaire Russian lawmaker under investigation in France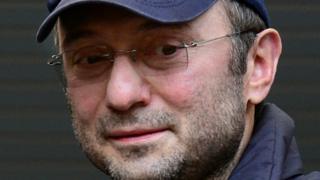 A billionaire Russian lawmaker is under formal investigation in France, reportedly on suspicion of money laundering and tax evasion.
Suleiman Kerimov, one of Russia's richest men, was arrested late on Monday night in Nice.
Russia summoned a French diplomat in Moscow to protest about his detention and call for his immediate release.
"We will apply all efforts, maximum of efforts, to defend his legal interests," a Kremlin spokesman said.
The spokesman argued that Mr Kerimov had diplomatic immunity, which puts officials from overseas above the law of the country in which they live.
"It is especially important here that Suleiman Kerimov has a diplomatic passport which he used to enter France," the spokesman said.
Russian state news channel Rossiya 24 reported that Mr Kerimov denied any wrongdoing.
The reason for his detention hasn't been confirmed, but a French official told Reuters news agency Mr Kerimov was being questioned in a case involving the suspected laundering of proceeds from tax fraud.
Mr Kerimov's family controls Russia's largest gold producer, Polyus, and he has an estimated net worth of $6.3 billion (£4.7bn). Shares in the company fell after news of his arrest broke.
The 51-year-old is a senator in the upper house of the Russian parliament, one of two representatives from the south-western republic of Dagestan in the North Caucasus region.
Until last year, he owned the football club, Anzhi Makhachkala, which became famous for big-money signings of stars including the Cameroonian striker, Samuel Eto'o.