Belarusian border guards catch 'trolley drone'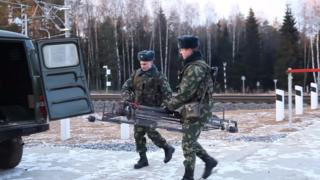 Belarusian border guards are used to dealing with smugglers' novel methods of trying to get contraband into the country, but even they were surprised by their first encounter with a drone on rails.
Guards on the frontier with Lithuania, which is also the Belarusian border with the European Union, looked up one night when their video screens showed sensors picking up a tiny flat wagon hurtling along the railway track towards them, the State Border Committee website reports.
The guards stepped to it and derailed the mini-carriage at the border. What they found was a home-made wagon, built like a shopping trolley, with an electric motor powered by two batteries, and steered by remote control.
It carried a net basket in which smugglers could put cartons of cigarettes, although on this occasion it was empty.
The guards think this was a trial run to see whether the "trolley drone" would make it across this particular crossing. The trolley operators would most likely have put it into reverse for the return trip to Lithuania, once the contraband had been picked up or deposited.
Smuggling via the more conventional flying drones is already an issue. The head of Lithuania's Border Patrol, Renatas Pozela, told Lithuanian TV that the Belarusian crossings are his "biggest headache" in this respect.
Belarus itself has some experience in dealing with imaginative attempts at evading its customs duties, located as it is between the European Union and Russia.
For example, smugglers upgraded a country road overnight so that they could ferry contraband European Union fruit into Russia in 2016.
Having said that, the Belarusian border guards do have some more agreeable duties, such as ceremonially welcoming Father Christmas across the Polish border every year.
Reporting by Gennadiy Kot and Martin Morgan
Next story: Japanese train barks like a dog to prevent accidents
Use #NewsfromElsewhere to stay up-to-date with our reports via Twitter.