Australian surf event cancelled after shark attacks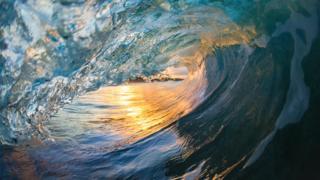 A major surfing tournament in Australia has been called off following two shark attacks in the area.
The World Surf League (WSL) said the remainder of the Margaret River Pro event in Western Australia would be cancelled due to safety concerns.
On Monday, two recreational surfers survived separate attacks in Gracetown, about 6km (3.8 miles) from the event.
The first man was treated for serious leg injuries. The second man suffered a minor bite to his thigh.
Organisers had suspended the competition immediately after the first attack, but the event resumed an hour later with additional safety measures.
But organisers said "actively aggressive sharks" remained in the area on Wednesday, possibly due to the presence of nearby beached whales.
"Current circumstances are very unusual and troubling, and we have decided that the elevated risk during this season's Margaret River Pro has crossed the threshold for what is acceptable," chief executive Sophie Goldschmidt said.
"The WSL puts the highest premium on safety. This cannot be just talk, and it cannot be compromised."
The event had been due to conclude on Sunday.